I've been running low on copies of "The Chuting Gallery" and sold out of them recently.  But have no fear – they are being reprinted as I type and more will be available when I return from Antarctica on November 12th.  If you really get desperate, there is currently one for sale on Amazon for $817.  I'd be happy to take your orders via the old Chuting Gallery website  as long as you don't mind a 30 day wait.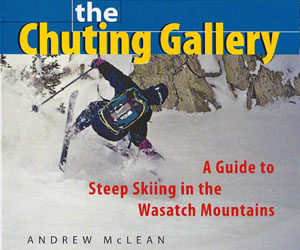 The Chuting Gallery is now close to 20 years old and although I've thought about updating it, this time around it is just going to be a reprint of the original, complete with all of the typos, outdated gear lists and endless exclamation points.  What can I say… I was excited!!!  This will be the third reprinting of the book and you can tell if you have a copy from the first printing as I not only misspelled the very first word, foreword, but did it in all bold caps.  FORWARD  
I have Caroline Gleich's film "Follow Through" to thank for the latest rush of orders.   It's a  beautifully produced video which not only has a compelling story, but also features some excellent aerial footage of many of the couloirs featured in the book.  Caroline was the fourth person to complete all of the lines in the book as well as being the first female.  Thanks Caroline and nice job skiing them all.
Category: Announcements, Random