This was one of the more interested and unusual trips I've been on, and although it had everything to do with backcountry skiing, not a turn was had. We did however summit "The Hill" at 9:46am on December 10th with no supplemental oxygen or porters and by fair means.
The trip was put together by the Outdoor Alliance, which is an organization based out of Washington DC to lobby on behalf of a variety of outdoor organizations and causes. That such a group even exists nowadays says something about the growth of the human powered outdoor industry over the last decade.  Twenty years ago it was hard to even find a partner to go backcountry skiing with, let alone someone in Washington DC who could help you protect your favorite stash.  The Outdoor Alliance, or OA, is an umbrella organization for five other groups, who in turn also have subgroups below them.  All told, it represents about 100,000 people and 1,100 local clubs, including the Wasatch Backcountry Alliance, which is why I was there.  If you ever have a local issue which needs to be pushed up to a higher state or federal level, these are the guys to talk to about it as they understand all of the intricacies of Washington politics.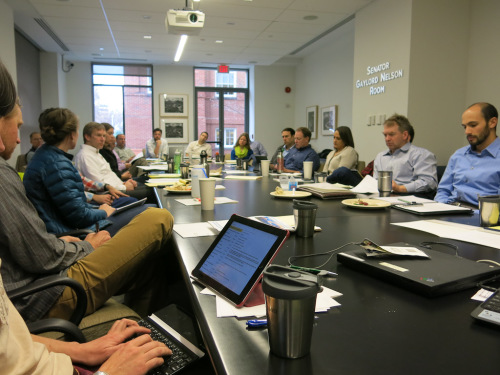 Washington DC is the city of a million meeting rooms, including this one at the Wilderness Society where we spent a day learning the process.
After a day of training and having a chance to meet many other likeminded friends from Oregon, Washington, Idaho and Colorado, our trio from Utah paid visits to three of our congressman – Chris Stewart, Rob Bishop and Jason Chaffetz.  If anything, these meetings made me realize why politicians must hate attending local town hall style gatherings back in their home state where emotions run high and civility can be low.  During the SkiLink debate a few years ago, a Congressman's visit to Park City stopped just shy of name calling and food throwing, but not by much. However, when in Washington, you are definitely on their turf and certain dress codes, salutations and protocol definitely apply.  I hate to admit it, but it gave me a grudging respect for my fellow Utahan and "turd blossom" Karl Rove who is obviously a master of this environment.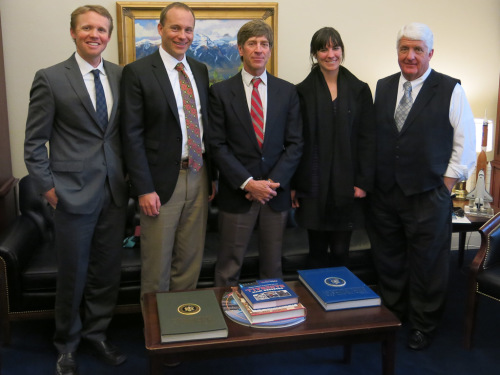 Our meeting with Representative Rob Bishop in his Washington, DC office. I left a copy of "The Chuting Gallery" to compliment his books on the Army, Navy and baseball. 
Aside from our Utah trio, we were joined by Cailin O'Brien-Feeney from Idaho, who was our experienced handler and Aimee Ross. Each of us had talking points and mine centered around the idea that the face of skiing is changing from big resorts to more and more backcountry usage, so it is important to preserve these areas and the access to them.  In political terms, this is a very soft "ask" and was usually met with a "Hmmm, yes.  Okay." which is about what I had expected.  More experienced Hill goers have specific financial or legislative requests, which they will follow up on over and over. Meeting elected officials is an interesting dichotomy as on one hand they are authority figures, but on the other, they are supposed to work for the public (haha… I know) and are obliged to meet with you, especially if you are one of their constituents. All in all, we  were one of thousands of pieces of input they get from people, but hopefully they will remember those outcountry boat paddlin' climbing people, or whatever they are called, next time a developer tries to get them to fork over some public land.
Representative Chris Stewart was out voting when we arrived, so we had a short meeting with Timothy H. Robison who is his Senior Policy Advisor, which seemed to go well, or at least he took a lot of notes.  The meeting with Rob Bishop centered around the lack of Wildfire Prevention funding, which apparently impacts recreation funding and Jamie Kent also reviewed the Mountain Accord process with him.  Perhaps the biggest surprise of the day was our meeting in Jason Chaffetz office, which was covered with coffee table books and posters of scenic Utah, including a huge aerial photo of upper Little Cottonwood Canyon.  Chaffetz was not there, but we had a long and interesting discussion with Wade Garrett, his Senior Advisor and Colton Miles, his Legislative Assistant. They seemed very open, interested and up to date on most of the issues we were talking about, and when I asked them about the proposed state take over of public lands, they took the 5th – no comment, which was understandable as it had little to do with their office.

An unfortunately bad photo from Rep. Jason Chaffetz's office with a photo of LCC prominently displayed.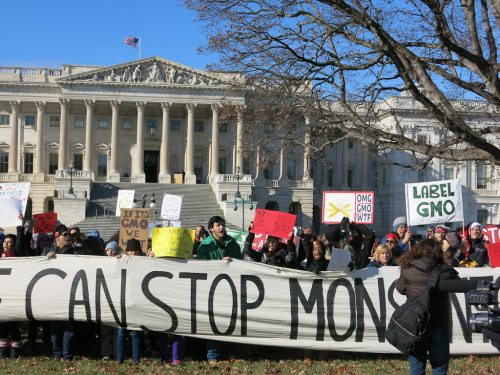 Democracy in action.  Stop Monsanto!  Label GMO food!  … we just happened to be in the 'hood.
In the afternoon, we trekked down to "the agencies" which included the Forest Service.  As a Wasatch skier, this is near and dear to my heart as we spend quite a bit of time on Forest Service land, plus they are the agency who controls the leases and policy for ski resorts like Alta, Snowbird, Brighton and Solitude.  This was an interesting meeting, although all we really had time for was to discuss their big picture responsibilities and upcoming programs.  There was quite a bit of discussion about revising, amending and updating their forest plans, which unfortunately was lost on me, but many others understood it well.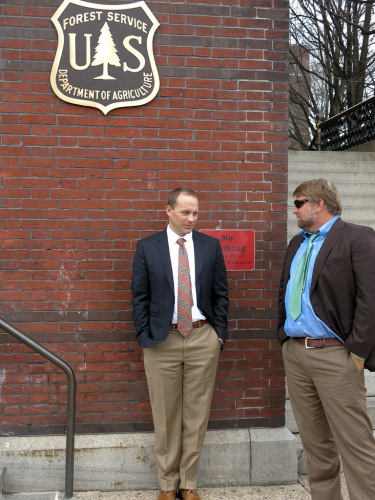 Jamie Kent outside the Forest Service building.
We did discuss their upcoming plans for revising summer use of ski resorts, which has very large potential impacts for Wasatchonians.  The Forest Service believes in "the greatest use for the greatest number of people" and in that regard, a heavily used recreation site is a successful site. Judging from the last three years and seeing how this one is shaping up, it is hard not be think that the future of ski resorts is mountain biking, alpine slides, zip lines and whatever sports the future brings.  In the Wasatch, this is exacerbated as we have a free-for-all of mountain development on the privately held Park City side, and the resorts on the Forest Service lands are feeling like they need to compete with similar summer activities to stay in business.  My personal feeling on this is that whatever they do, they need to make sure the nonpaying public always has access through the resorts, which is not the case in the winter when they are closed to nonpaying citizens or uphill traffic.
Our last stop of the day was at the Department of the Interior (DOI), a HUGE catch all organization, which encompasses agencies such as the Bureau of Land Management (you know… all those places in southern Utah where you go to shoot guns at rocks, burn tires, blow up your old washing machine and go nuts on your ATV).  I can't think of much skiing that takes place on DOI land, but for climbers, much of the desert country falls under their domain.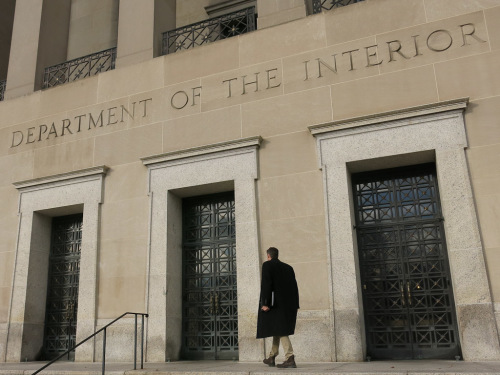 Barbarians at the Gate – Adam Cramer approaches the DOI front entry.
One of the absolute highlights of the trip was meeting David Jayo who is the Senior Advisor to the Secretary of the Interior, Sally Jewell.  David used to work at REI with Sally and still had a love of the outdoors, as well as an overflowing enthusiasm.  He explained all about the DOI (actually fascinating) and gave a layman account of how politics works.  After that, we got a tour of the more unique parts of the DOI building, including a trip to the roof top just as the sun was setting.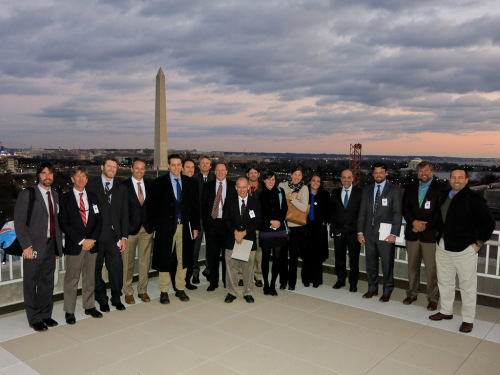 The OA delegation on the DOI rooftop.  I've only spent 48 hours in DC and I'm already speaking in acronyms. 
Of everything we heard over the course of two days, the thing that really stuck with me was David's comment "The important thing is to show up… because everyone else does."  When it comes to setting policies, climbers, skiers and paddlers are often out having a good time and enjoying their sports, while all of the other people and organizations who have a vested interest in the land are partaking in the political process.  I'd much rather go skiing than attend a meeting, but I heard it over and over again at every agency and gathering we attended – "We need to hear from you or it will be too late by the time the new regulations come out."  By far and away they encouraged local involvement, but as soon as possible, get organizations like the Outdoor Alliance involved at the national level.  Things may move painfully slowly, but it is better to be part of that process rather than trying to fight it after the fact.
Another thing that stuck me is how many agencies skiers and climbers interact with, which in part is what makes it hard to get involved.  We drive on Federal and State roads, ski on Forest Service land, private property, Wilderness, leased or state land, the avalanches are shot by the Department of Transportation, the streams are controlled by someone else, etc..  It's hard to know how best to get involved when there are so many moving parts, especially when compared to someone like a rancher, who may have been dealing with the same single agency his/her whole life and knows everything thing about it.
________________________________
Help support StraightChuter.com and keep an eye on things with a pair of Julbo Trek Sunglasses from Backcountry.com. Click on the photo below.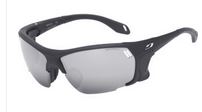 Category: Trip Reports