The true beauty of  packrafts is that their lightweight portability allows you to boat wildly remote rivers which would be logistically daunting or expensive with a hard-shell boat.   Weighing in at about 15 pounds for the entire boat, paddle, pdf, drysuit, etc., means that you can hump them over mountain passes and carry them for many miles a day, and then float a pristine section of a river the next. They are one of those magical outdoor toys that make zealous believers out people the first time they use them.
In the Lower 48 (as the AK'er call it), one of the trickier aspects of wilderness packrafting is mapping out good routes which combine boating and hiking/biking/skiing. In this regard, Forrest McCarthy from Jackson Hole has an uncanny talent for piecing together 5 star outings.  His "River of Return" route earned him the Golden Paddle navigator award last year, and this year he has been awarded the Emerging Navigational Explorer of the Year award for refining his "DuMore" trip through the Teton Wilderness. Part of the brillance of the DuMore trip is that it combines perfect days of alternating hiking and packrafting with excellent campsites. All told, the trip is about 100 miles (47 hiking and 50 paddling) with whitewater up to Class 3 and a couple of big days of walking.
As I found out before starting this trip, there is no such thing as the DuMore river.  Forrest created the name as the trip starts on the DuNoir river and there are so many options for connecting more rivers and trails that you could always "do more."  The DuMore starts with a car shuttle out of Turpin Meadows, which is about 45 minutes outside of Jackson Hole, WY, and it took us six days to complete.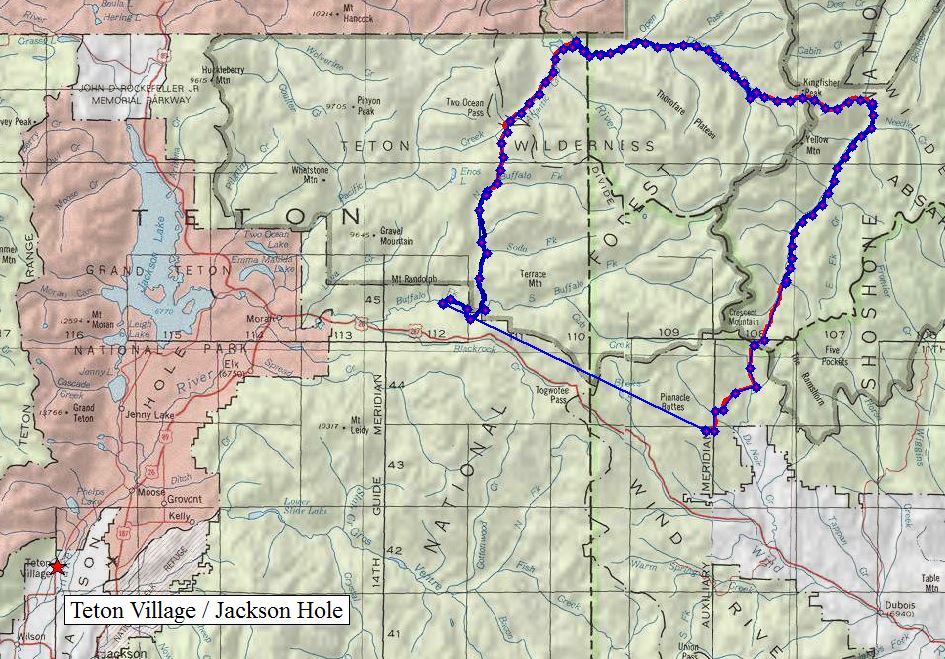 Day One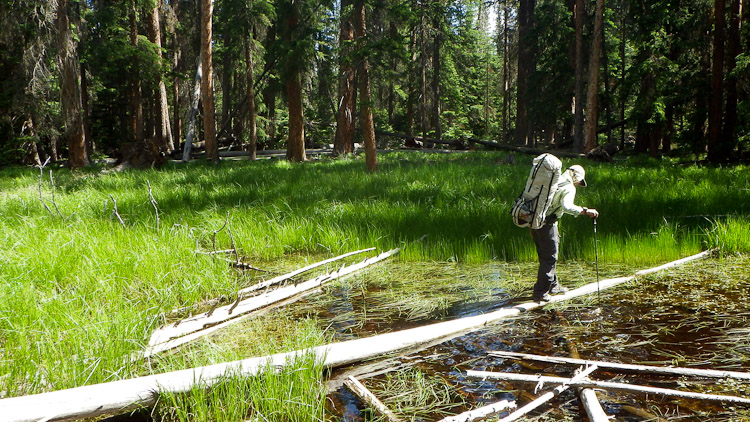 The first few miles is off-piste hiking to avoid either a long circuitous trail or trespassing on private property.
Day Two
Day Three
Day Four
Day Five
At this point, we could have punched it all the way back to the car/trailhead which was about ten miles away and made it a five day trip, but we camped for one more night to run part of the NF of the Buffalo the next day.
Day Six
Day six was an optional bonus whitewater day and could be skipped if time is short.  We hiked about 2-3 miles up a trail alongside the North Fork of the Buffalo and ran a series of rapids which probably pushed up towards Class 4 whitewater. It wasn't huge or powerful water, but there were lots of must-miss hazards like trees and rocks.
From here, it was about another 1-2 hours on the Main Buffalo to get back to our car at Turpine Meadows, and then an hour car shuttle (each way) to bring the whole trip back together again.
A big thanks for Forrest McCarthy for envisioning the trip, Moe Witschard for organizing it, and Mike Fiebig & Jim Harris for providing such excellent company, stories and camping experience.
________________________________
Help support StraightChuter.com and follow the faint Wyoming trails through the wilderness with a Nat Geo Trails Illustrated Wyoming Rocky Mountain Maps from Backcountry.com. Click on the photo below…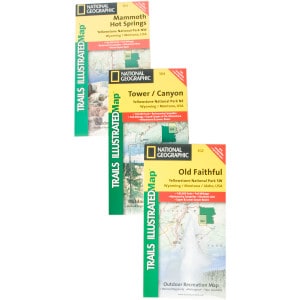 Category: Trip Reports