I had my first serious springtime glomming session over the weekend, which prompted this 3:36 minute video on how I remedy this wretched malady while on a tour.
I wrote a post about glomming almost a year ago to the week and it is one of those things where doing a half-assed repair job usually just creates more anger and frustration because you'll end up stopping to fix it multiple times instead of just once.  Sometimes the glopping goes away by itself, but when it doesn't, I stop and make a meal (or at least a snack) out of fixing it.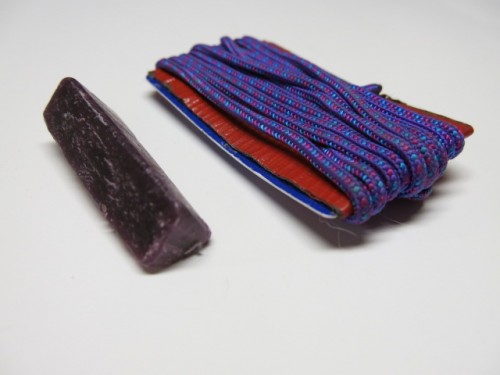 Anti glop tools of the trade – a chunk of Globstopper wax and a safety kit composed of an old bank card wrapped in duct tape and then accessory cord.
An important step to stopping glomming is to scrape or squeegee as much water as possible out of the skins before rubbing the wax on.  This is best accomplished with a flat, flexible edge, like an old bank card.  I carry one wrapped in tape and cord, which doubles as my first-aid and repair kit.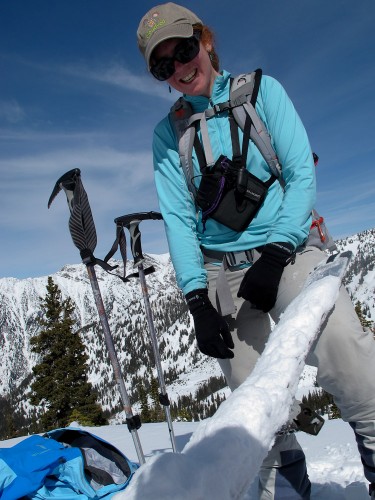 Polly glomming.  If she couldn't laugh, she'd be crying.
After scraping as hard as possible, I let the skins dry out, or at least warm up for a few minutes (donut break) so the wax sticks better.  After that, don't be bashful with the wax – rub it in as hard as possible.
________________________________
Help support StraightChuter.com and put an end to the glopping madness with a bar of Black Diamond Glop Stopper Wax ON SALE NOW from Backcountry.com. Click on the photo below.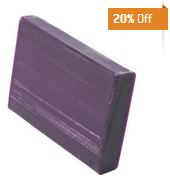 Category: 05 Uphill, Tips & Technique