Arrrg.  'Tis the season for skin glomming, and what a hateful time that is. Nothing zaps your power-meter quite like an eight pounds of snow stuck to the bottom of each ski, especially when it is hot and sunny out. Whenever I'm getting really beaten down by glomming, I always smile remembering an outing with a short-tempered French Canadian guy who had horrendous glomming and was getting more frustrated with each step.  Steam was coming out of his ears and river of profanity out of his mouth as he started to do the most tempting and ill-advised thing possible – whacking your ski edge with your ski pole. He was too far gone to try to calm him down, and when his pole finally snapped he exploded in one of the most dramatic backcountry tantrums I've ever seen.  Everything got thrown – skis, gloves, hat, goggles and what was left of his poles. It was a beautiful performance and hard not to laugh.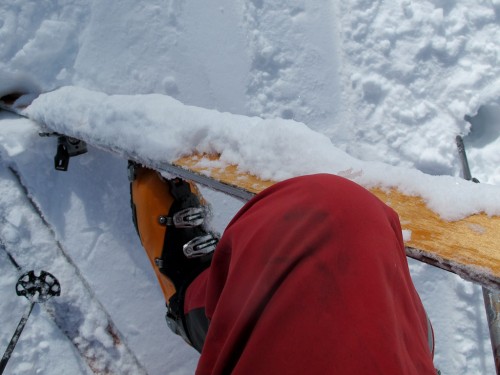 Excuse me while I throw a fit.
Glomming is caused by a variety of conditions, but the most common is going from warm snow (or water) into colder snow.  This is almost unavoidable as just starting out at a lower, warmer trailhead can do it, or even going through sun/shade areas like trees.  Applying skin wax before your skins get wet is the best preventative measure, although it is almost always too late before you realize you should have done this.  Another thing that will really kill your skins is using them around salt water as it dries them out so much.
Fixing glommed up skins in the field is a slow process.  The first thing you'll want to do is scrape all of the snow and/or water out of your skins as hard as you can with a flat-edge of some sort. I carry a chunk of plastic for this purpose as well as a sliver of skin wax.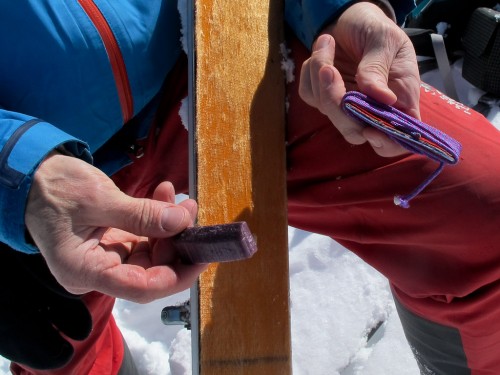 After that, really, really, really rub some skin wax into your skins.  Don't be bashful.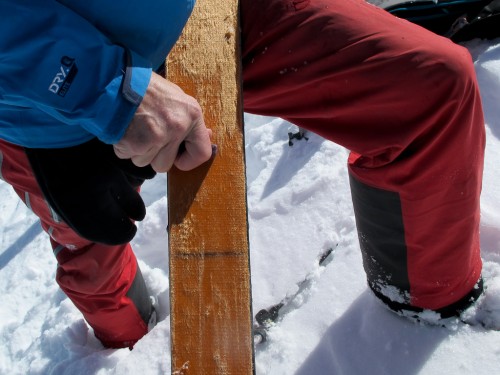 You can clearly see the wetted-out part of my skins here.  Dammit.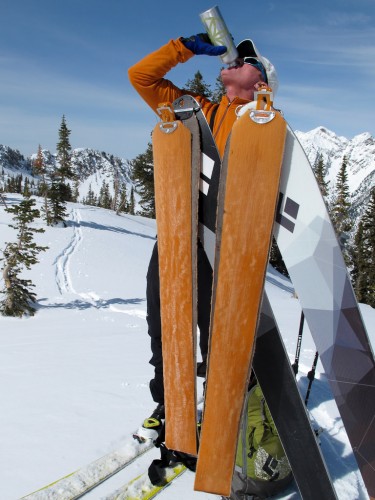 If you get a chance, anything you can do to help dry your skins out will help, including hanging them out to dry while you have a drink.
If you haven't waxed them ahead of time, it seems like it takes at least two scrub & wax applications to beat the glommies in the field.
________________________________
Help support StraightChuter.com and reduce the glomming with a block of Black Diamond Glop Stopper Wax from Backcountry.com. Click on the photo below…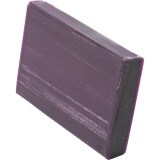 Category: 05 Uphill, Gear Reviews