On my first winter camping trip we brought a gallon jug of water, which quickly froze and left us with no water and 9 pounds of dead weight. Things have improved slightly since then, but I'm still learning little tricks of the winter base-camping trade which make life warmer, drier and better fed.  Here are a few favorites from this spring…
Jimmy Dean pre-made breakfast biscuits
Available at CostCo, these come individually wrapped and pre-made with English muffins, eggs, cheese and ham – all you have to do is warm them up to universal acclaim.  They can be toasted in a frying pan (with butter of course) or placed on top of a pot lid and covered with a pot parka while you heat water.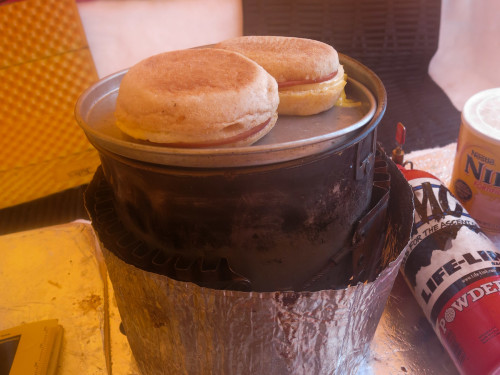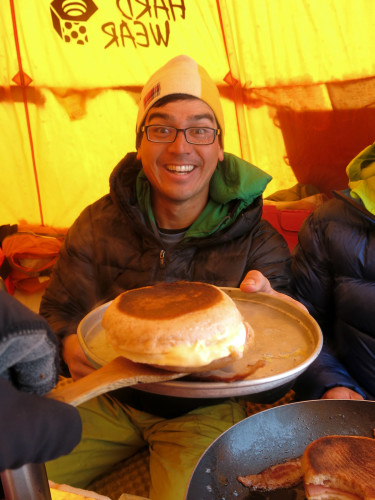 Nido Milk Powder
I learned about Nido from Jim Harris and have been a fan ever since.  It is basically whole, fortified powdered milk which is much thicker and richer than the stand issue 2% schwag that you can get in a box.  It makes much better cereal milk, coffee creamer or milk for instant deserts, like pudding.  It it available in most grocery stores and comes in a nice, durable, easy to scoop from container.
Tang, Cocoa and Pilot Bread
These are three things that I have always run out of.  Tang goes well as a drink by itself, but also with tea (Tang Tea).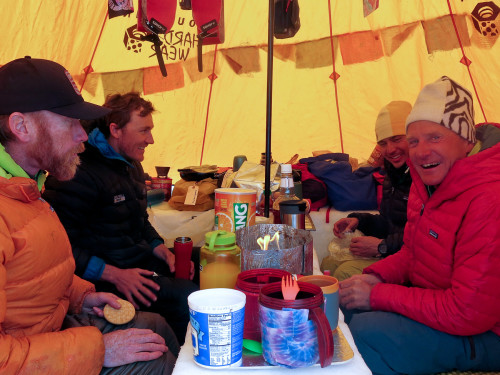 John Morrison with Pilot Bread and tang.  The cocoa is hiding in the back.
CostCo pre-cooked meats
Available as bacon, carne asada, chicken, hamburger patties, BBQ pork and many other varieties. These come factory sealed, require almost no cooking, generate far less grease and are easier to clean up.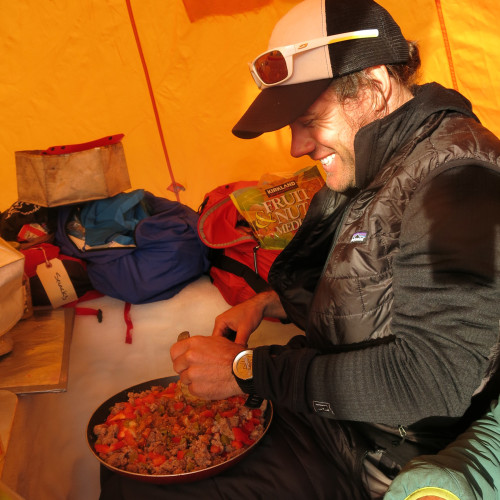 Jules making up a meat and pepper medley. 
Pizza Night
The single serving Boboli pizza shells travel well and come with packets of red sauce.  After adding cheese, veggies, etc., you place sausages or pepperoni on top so they can be flipped over pancake style without sticking to the frying pan.  Recipe and inspiration courtesy of Jules Hanna.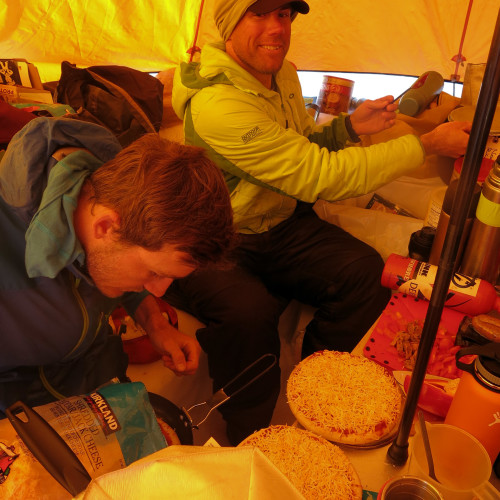 Sean adding the cheese….
Manila hang tags
I prefer to organize my food by category into lightweight stuff sacks, that way it is also easier to put away and/or ask someone to look for.  By adding the manila hang tags, I can actually remember what is in what bag.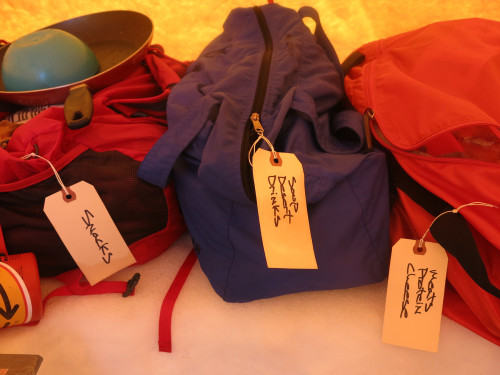 Snickers/Apple Fondue
Oh yeah!  Slowly melt a Snickers bar, (or two, or three) add some butter and dip apple slices into it.  An excellent desert.  The variations are endless.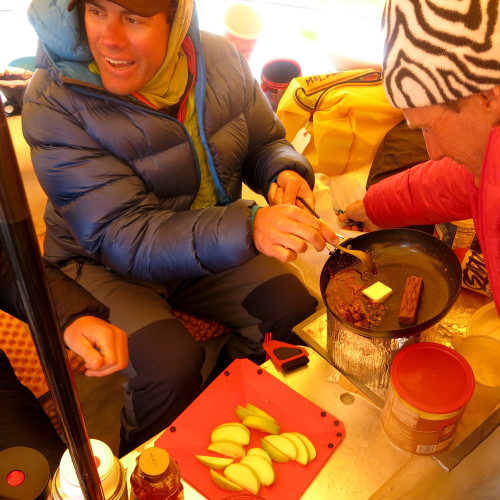 Chef Hanna prepares desert.
Drying out gear – heat tent
Drying out gear during extended warm, wet or rainy conditions can be tough.  Putting glove and boot liners in your sleeping bag at night will only go so far.  Assuming a surplus of fuel, rigging up accessory cord drying lines in the cook tent and blasting the stoves can generate heat of over 100 degrees.  It's also probably a good way to burn your tent down and the fumes can't be good for you, but done with moderation it has great results.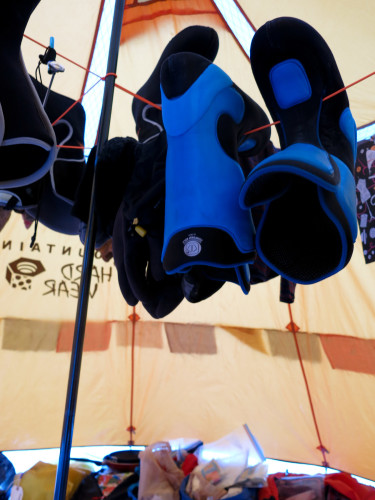 Movie Night
Assuming someone has a downloaded movie on his/her phone or tablet, by connecting a portable speaker like the Goal Zero Rock Out, you get an evening of surprisingly good quality audio and video entertainment.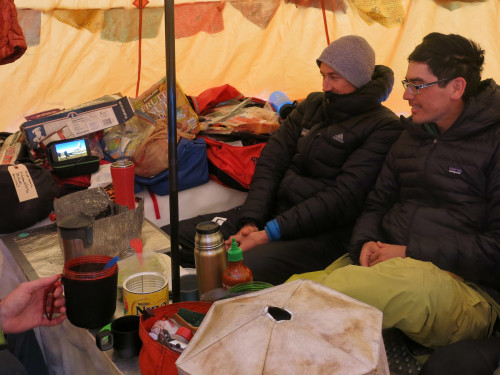 Sean and Ming watching "Oceans 13."
Equalized tent fly anchors
I've pre-rigged my tent fly with self-equalizing exterior tie-off points, which work really well not only for anchoring the tent down, but also reducing flapping in the wind.  Each main point is connected to three other points, and on Mountain Hardware Trango tents, you get four main tie-off points – two per side. I bury a tent stake as a T-anchor and then tie that off to the equalized points with a trucker's hitch, which makes it easy to adjust.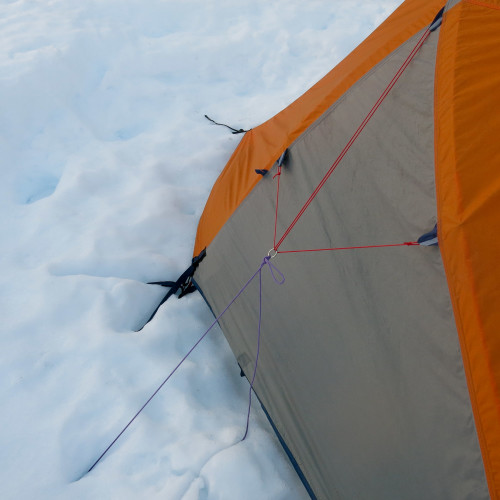 The red cord is equalizing tension on all three tent points. 
Lenmar Universal Li-Ion USB battery charger
This is a small, cheap, versatile universal battery charger with is powered off of a USB cable, which works well with power packs or cars.  The unit is smart enough to figure out reverse polarity, so it doesn't matter if you load the battery backwards.  Not visible in this photo are two little prongs which slide back and forth to make contact with the camera.  The spring-loaded cover then slides shut to hold the battery in place.  $16.83 from Amazon.com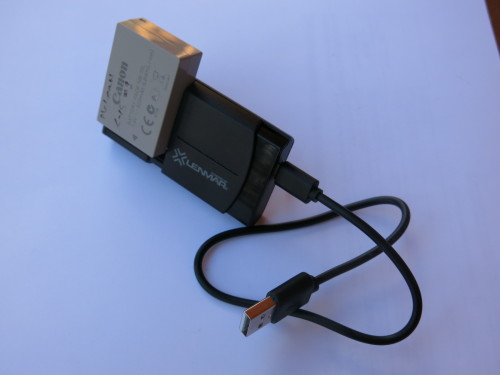 ________________________________
Help support StraightChuter.com and set the soundtrack to your trip with a Goal Zero Rock Out 2 Solar Rechargeable Speaker from Backcountry.com. Click on the photo below.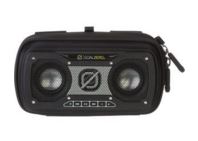 Category: 02 Gear, Gear Reviews