I've started to lose track of how many times I've been up to the Ultima Thule Lodge in the Wrangell-St.Elias National Park & Preserve (WSENPP), which is a good thing as even too many trips will never be enough. It's the Holy Grail of ski mountaineering and one of the many things I like about touring up there is that it is inconceivable to ever do more than just scratch the surface of the skiing potential. For reference, the WSENPP is over 230 times the size of the Central Wasatch and almost all of it is skiable and roadless wilderness.  It pushes the idea of Big Mountain Skiing so far it turns it into Humble Mountain Skiing.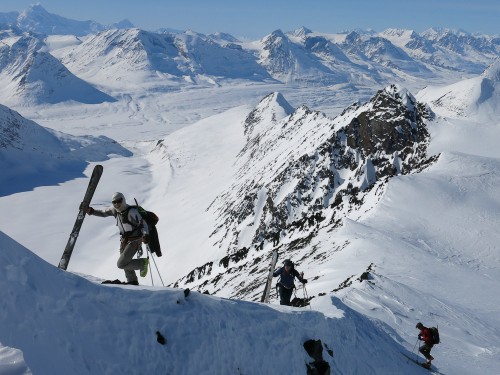 On one of my earlier trips to the Ultima Thule Lodge, I crossed paths with Eli Potter and Aria Thomases, who were wed in an impromptu ceremony at Iceberg Lake in the park, and then went on to form the Alaska Wild Alpine guiding company.  Eli and Aria came up with the idea of holding an annual "Wilderness Ski Week" and my only question about joining in was "What are the dates?"  This year, 2014, was the third time it was held and the first week of April seems to be blessed as we've had good to great weather and snow conditions every year.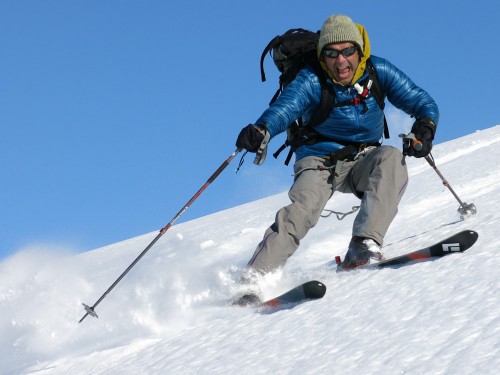 A trip is only as good as the people who are on it, and this year we had three returning Ski Week veterans, plus three friends from Italy and a local Wasatch uphill machine. Variety is the spice of Ski Week and we try to sample a bit of everything the WSENPP has to offer, including powder, chutes, peaks, long tours and great flights. The snowpack in the Wrangells was fairly good this season, although some high ridge top winds a month or so earlier had smoked the high peaks and there was a persistently weak deep layer (which we found on the second part of our trip…) that kept Ski Week 2014 from being a free-for-all feeding frenzy.
As a sign of Ski Week's growing popularity, six out of nine available spots are already filled for 2015 (three left) and I've already begun counting the days until I can get back up there. For three years running, it has been the best skiing of the year. I can't wait.
________________________________
Help support StraightChuter.com and skin, ski and boot the Wrangells with a pair of Scarpa Maestrale Boots ON SALE NOW from Backcountry.com. Click on the photo below.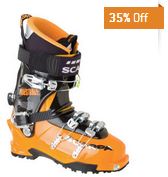 Category: Trip Reports