The 100 mile White Rim trail outside of Moab, UT is one of my favorite mountain biking adventures and I've done it clockwise, counterclockwise, in a day, over three days and at night. There are far burlier rides out there, but I like the White Rim as it is such a classic slice of the American West desert country and has fairly simple logistics – you start and finish at the same place.

Titus getting ready to head down the Shaffer trail at about 7:00am after roughly 18 miles of riding and twoish hours.
That said, the exact starting and finishing points, as well as the direction of travel and the best time of year to do it are all open for endless debate. Theoretically, as a closed loop, you are going to gain and lose the same amount of vertical no matter how you do it, so it really shouldn't make any difference, except that it does.  Ideally, you want to bust out as much vertical as possible early in the ride while your legs are still fresh and you are riding slowly enough to climb in the dark with a headlamp.
It may be just rural myth, but supposedly Jeremy Nobis (the skier) has the loop record at something like 6:30 hours. I have no idea if this is true, what the start/stop points were or if it has been beaten, but it hardly matters to me as I'm personally in the 10-12 hour range. I just like riding the loop as it is always such an unfolding adventure of crossing through wide open desert, down wildly impossible roads, skirting by huge towers and catching glimpses of the Colorado and Green rivers.
As a day ride, I've almost always done it in the fall and started/finished at the bottom of the Shaffer trail as it avoids climbing up the Mineral Canyon dirt road, which if you save it until the end, can be the longest ten miles of slightly uphill wash-board hell on earth.  But, for our most recent outing, we tried it in June and went clockwise, starting at the bottom of Mineral/Horse Thief and climbing out.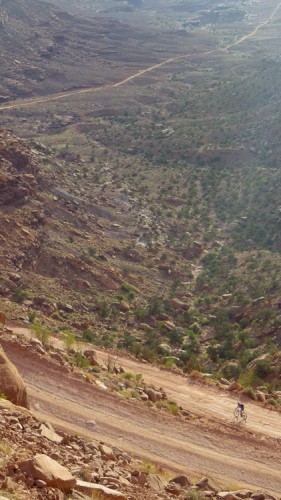 Small person, big landscape. The Shaffer trail.
June is admittedly pushing it on the weather as it starts to get scalding hot down there, but it seemed like it could go either way – from warm and unpleasant all the way up to skull-popping hot and dangerous.  The temps were forecast to be 97 degrees, but being a cold-weather optimist, it didn't occur to me that it could actually be hotter as well, which it was.  One of the big issues with the White Rim is that there is little to no shade, so staying hydrated is one of the major concerns.  At these temperatures, we carried roughly two gallons of water apiece, which was enough to keep us from dying, but also assure we'd be very, very dehydrated at the end. The air and the temps are so dry out there that even after soaking ourselves in river water, everything was bone dry after a mile of riding.  It was perhaps a classic misunderestimatation of how hot the desert can be.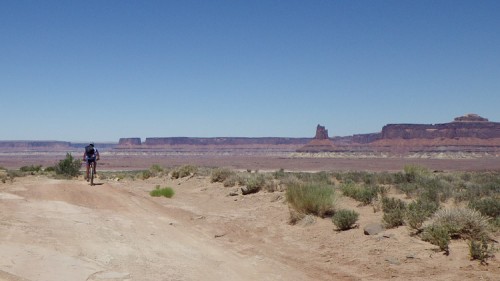 Hmmm, maybe there aren't as many opportunities for shade as I thought…
Clockwise vs. counterclockwise was a bit hard to evaluate due to the heat misery factor, but one noticeable advantage was that the clockwise direction (bottom of Horsethief and up) had less uphill sandy sections in the middle, which made it easier to ride.  The downside is that you have a slower, flatter finish, which at mile 95+ can seem to take forever.
________________________________
Help support StraightChuter.com and try to stay hydrated with a CamelBak Antiodote Reservoir from Backcountry.com. Click on the photo below…

Category: Trip Reports