Now that the Wasatch Mountains actually have some snow, it is like celebrating November in February – a bit late, but welcome.
Last Saturday we followed a masterful skin track up the Argenta aprons on Mt. Kessler and caught the trail breakers right on the summit, who turned out to be Alecs Barton and two friends.  I'd met Alecs in passing before and we had a lot of common friends and interests, so it was fun catching up with him in such a beautiful spot.  Tragically, within a few minutes of our groups parting ways, Alecs' group triggered a large avalanche in the West Couloir of Kessler and Alecs died of trauma from the 2,500′ slide.  Alecs was a prolific Wasatch backcountry snowboarder and his death underscores what a treacherous snowpack we have this year.
The next day we toured in a different canyon and came across Ted Wilson's dreaded "red snake" of a traffic jam, which he claims will be fixed by selling off 30.3 acres of prime public land to the Talisker real estate development company so they can put in a gondola.  As with two other occasions this season, the cause of the traffic back up was a car going off the road, which in this case resulted in serious injuries.  It was the second time this year I'd seen a major wreck right at this spot (bottom end of the "Seven Sisters"  area) and it made me wonder how many wrecks and fatalities LCC & BCC see every year.  It seems like a public transportation system up this canyon would both reduce accidents and traffic jams, whereas adding yet another lift would increase both.
Dawn Patrollers in LCC have been a growing issue over the last few years as they prevent UDOT from safely shooting the big south facing paths (Little Pine, White Pine, Tanners, Superior, etc) that threaten the road. The Salt Lake County Sheriffs office sends out road closure text messages (sign up here), but there is also a new sign in the White Pine lot with flashers on it.  If the flashers are on, please avoid the north side of the road.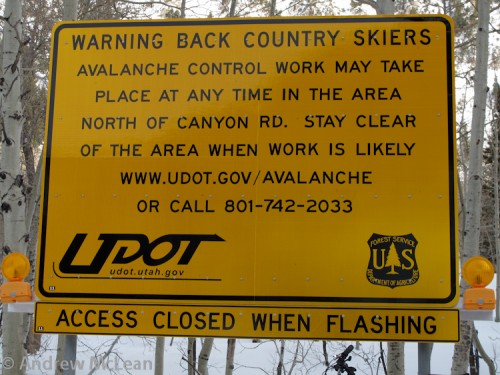 The lower elevations are still far from filled in and most of the steeper lines are too sketchy to ski, but if you can find low to mid angle, mid elevation, sheltered terrain, the skiing is actually pretty good.
And, least anyone think that the Wasatch Mountains are not multi-use and in close proximity to a major city, here's a photo from last Sunday, which is something that you probably won't see deep in the Alaska Range…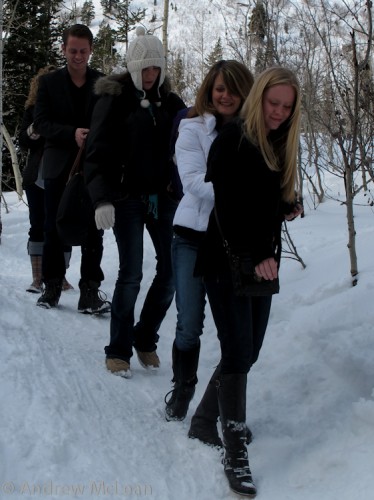 ________________________________
Help support StraightChuter.com and tromp through the winter wonderland with a pair of Tecnica Rainbow Moon Boot – Women's from Backcountry.com. Click on the photo below…

Category: Random