As a compulsive list keeper, I've had a Post-It note stuck to my monitor for a few years that said "Wasatch Top 10 in 10."  The idea is/was to rack up a bunch of Wasatch classic ski descents back-to-back in ten days in a chute skiing feeding frenzy.  The problem has always been that I have put it off until too late, or there was too little snow or too much avalanche danger so I've never gotten around to it.  But, this morning's UAC Avalanche Report specifically stated that we were in for ten days of high pressure, which I took as a sign from the ski gods to give it a try.  If anyone is interested in coming along for some of these, send me a note.
#1 The Y-Couloir
The Y-Couloir is one of the most classic chutes in the Wasatch.  Part of its charm is that it is huge (3,400′), north facing (which means fluffy powder), right by the road so it has almost no approach, steep, straight, easy to see and find, often has a booter in it, is semi-sheltered and when it does avalanche, it tends to fully flush itself out.  All in all, a tasty treat.
Through some karmic coincidence, Kip Garre, Ingrid Backstrom, Derek Taylor, Rick Angell, Brad Barlage, Tommy Chandler and Courtney Phillips were all in town and available.  As the old saying goes, "Eight pairs of boots makes quick work of the couloir" so we were able to start at 6:30am and punch out the hike without too much pain, suffering or tears.
The skiing today was ideal as the booting wasn't too bad, the snow was soft and the avalanche danger low.
Ingrid Backstrom doing a photo reenactment of her most infamous film segment ever, the dreaded "Chapstick" clip.
Tomorrow: Something Silvery
________________________________
Help support StraightChuter.com and wiggle the Y-Couloir with a pair of K2 Mt. Baker Superlight Skis from Backcountry.com. Click on the photo below…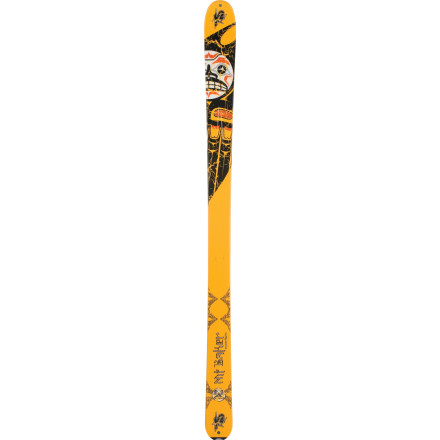 Category: current conditions