1) November is the weirdest on record.
The SLC golf courses are psyched, but the skiers are not.  According to the SL Tribune, in November 2012, "Not even one day was cooler than normal, while 17 days were 10 degrees or more above average."   Awesome. A great early season in the Wasatch starts around Halloween, an average one is going full-steam by Thanksgiving and a sucky one is still lagging by Christmas.  With rain and 40 degree temps at 7,100′ in Park City, we are teetering on the edge of… I can't say it.  The BC skiing is tolerable, but doesn't leave you begging for more.
2) Powder Mountain is sold.
Powder Mountain, up in the northern part of the Wasatch by Ogden/Snowbasin, was recently sold to The Summit Group.  PowMow has some of the best quality snow in the US, so hopefully the new owners will figure out a way to jack up another 10-15 degrees of slope angle so the mountain so it will actually be skiable. In the meantime, it will be rebranded as an environmentally sensitive entrepreneurial retreat, somewhat like a continuous-loop TED Talk.  Given the choice between this and rapacious developers, it's a no-brainer and I wish them the best.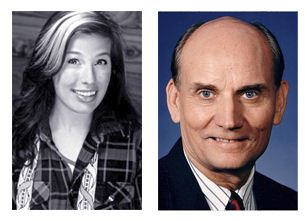 Audrey Buchanan, Director of Digital for the Summit Group on the left, versus Jake Garn, Director of paid-off, racist, ex-politicians for the Talisker Group on the right.
3) The Wasatch Citizens Series is going strong.
The first two races have already been held, including the one last Tuesday night in the rain. Spandex or not, there is something special about sharing the camaraderie of blowing chunks in the dark while skinning uphill in the rain.  And, it is free!   40ish people turned out for the last race, which is a huge tribute to the spirit of the event. Having been involved, and overwhelmed, by the logistics and formalities of organizing Ski Mountaineering races in the past, I think/hope this is the future of the sport.  The people who are fast are really fast and you probably will never catch them, so forget about winning and have a good time with like-minded people.
The races are held at the Brighton Ski Resort and the schedule is posted on the Wasatch Citizen SkiMo Series website. In general, the races are held on Tuesday nights and the best way to be reminded of them is to subscribe to their blog email.  Like many fine blogs, they don't update all that often, so you won't be flooded with spammy crap.
________________________________
Help support StraightChuter.com and help Jake grow a full set with OneBallJay X-Wax Rub-On Wax from Backcountry.com. Click on the photo below…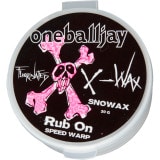 Category: Commentary