It is hard to live in the Salt Lake City area for more than year or so and not have an opinion on what should, or shouldn't, happen here in regard the Wasatch Mountains.  To outsiders, it might seem like there are a lot of turf and class battles going on, which would indeed be the case.  Some things are worth fighting for.  Welcome to the Wasatch – now choose a side.
As a starting point, the vast majority of contention is focused around the Central Wasatch Mountains, which by almost any standard is a tiny little mountain range.  If you envision the knuckles on your hand being the ski resorts and your fingers as the major canyons leading up to them, you start to get an idea of the lay of the land. There are seven major resorts in the Central Wasatch (Snowbird, Alta, Brighton, Solitude, Deer Valley, Park City & the Canyons) and they are either virtually adjacent to each other, or within a snowball throw. Skiing all seven of them in a day, either with or without lift assistance is no big deal.
To intensify this crowded situation,  the skiing starts at about 7,000′ and the Wasatch tops out at a bit over 11,000′, which means there is a 4,000′ band of prime terrain. Although Utah is a large state, when "The Greatest Snow on Earth" is mentioned, 90% of the time it is referring this tightly clustered group of peaks located within this narrow elevation range. It is tiny to the point that topo maps are almost irrelevant, overnight camping is only done for the novelty of it and very few people ever get lost or benighted.  If the sun starts setting, ski down the fall line and be careful not to get hit by a car when you reach the road. Technically, the Wasatch Mountains cover roughly 180 miles from Mt. Nebo in the south almost all the way up to the Utah/Idaho border, but most of this area lacks roads that are maintained in the winter and mountain townships (like Alta, Brighton & Park City), so access is difficult.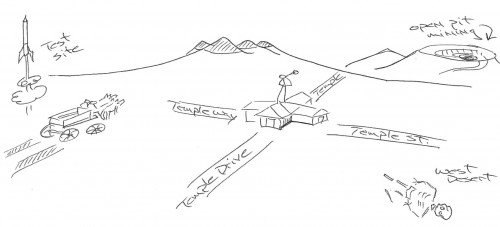 To thicken the plot, the Central Wasatch Mountains fall under three different counties – Salt Lake County, Summit County and Wasatch County.  The landmark Tri County Peak is located between Brighton and Park City right off of the Guardsmans Pass road.  You might wonder if all of these counties could work together for a common Wasatch, but the short answer is "no."  Salt Lake County has the lions share of the Central Wasatch (Little & Big Cottonwood Canyons) and their main concern is maintaining quality drinking water for the Salt Lake Valley.  Summit County (Park City, Deer Valley & the Canyons) is mainly a rural and has never met a developer it didn't like.  Wasatch County (Heber) has other things to worry about than plowing high elevation snow-caked roads for people who don't spend money in their jurisdiction.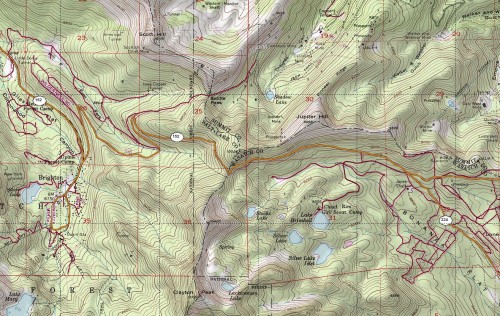 And we are just getting started.  ;)
Unlike the Tetons and Yosemite Valley which were immediately recognized and protected for their scenic beauty, the Wasatch has a history of being a utilitarian range and has been used for mining, lumber and quarrying ever since ol' whitey showed up.  It was only when skiing started to take off here about 60 years ago that anyone really cared about the aesthetics or accessibility of the range.  However, by then much of the range had been divvied into mining claims whose value has gone from zero to infinity and back again many times over. At some point in the timeline the Forest Service, became major landowners as well.  The end result is that today's Wasatch Mountains are a fragmented swamp (not quite a quagmire) of public and private lands that are overseen by a variety of agencies and interests. And user groups.
In the late 1970's and early 80's, three Wilderness areas where added to the Wasatch mix.  This effort was spearheaded by a group of far sighted individuals who later went on to form Save Our Canyons, a group dedicated to preserving the Wasatch environment.  Nowadays, with the exception of a certain heli skiing company, the Wilderness areas are universally loved and appreciated to the point that another one is being considered.  However, an unintended consequence of the Wilderness areas has been that they put even more pressure on any available land which might be potentially developed, including expanding onto Forest Service land.
The end result is where we are today.  Areas that are private property can and will continue to be developed, which is hard to argue with.  If I had devoted more time to managing my hedge fun (<— joke) instead of skiing, I could have bought these lands up and turned them over to the public, but I didn't.  Public lands on the other-hand are becoming far more controversial, which is why you have people lining up and protesting every time a ski resort even suggests putting a Coke machine on them.  The Central Wasatch is seemingly shrinking before our eyes.
Category: Wasatch Mountains