Be careful what you wish for – you just might get it. Two weeks ago we had such a rotten base layer that I was facetiously hoping for rain, which seldom happens in the Wasatch, until of course it started to rain at 9,000+ feet in February. This seemed grim, but then the temperatures dropped during the storm, which effectively capped the old, rotten snowpack and added 6+ inches of nice new, well bonded fluff and low avalanche danger.  Party on Garth!  Except for still bouncing over a few logs and only being able to ski the upper elevations, life was good.
Then, just as that was all starting to get tracked out and thoughts were once again turning to getting more snow, a warm, wet storm moved in which brought rain to 7,100′ in Park City, and 18 – 47″  of very dense snow at the higher elevations.  Garth's got a bad hangover.


An avalanche rose by any other color would not smell as foul.
Any snow is good snow, but the snowpack itself resembles the aftermath of a college frat party – it's a dangerous mess of vomitee wet snow and layers of dubious reliability all stacked on a rotten foundation.  The only thing missing is deep regret, but if you stick to upper elevation low angle terrain with nothing above or below it, the actual surface quality isn't too bad.
If anything, the closed canyons and extreme danger seemed to attract even bigger groups to the backcountry.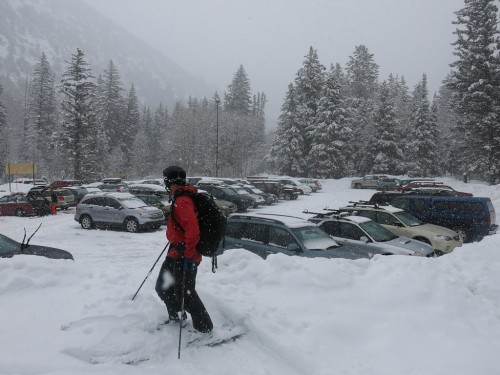 One of many full to overflowing backcountry trailhead parking lots in the Wasatch. This must be a small part of the 284 "other users" WPG reported seeing in 2012/13.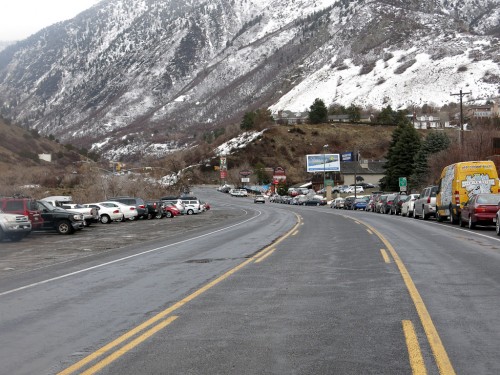 The Porcupine lot stretched on in both directions for close to a half mile on either side of the road.
Hmmm, what next?  As far as snow goes, the Wasatch is probably worth a trip, although a lot of the big classics are still unskiable.
________________________________
Help support StraightChuter.com and waxed up for whatever the future brings with Toko All-In-One Hot Wax from Backcountry.com. Click on the photo below…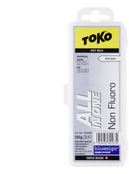 Category: current conditions, Wasatch Mountains