The silver lining of touring in a popular area and competing for first tracks is that there are also a lot of potential rescuers around if things should go wrong, as happened yesterday.  As we were coming around for a second lap in Silver Fork, we saw a major debris pile and crown line right in front of us.  Just as Doug said "Was that there last time?" we heard someone yell "CALL 911!" and saw a series of skiers bee-lining straight to the scene.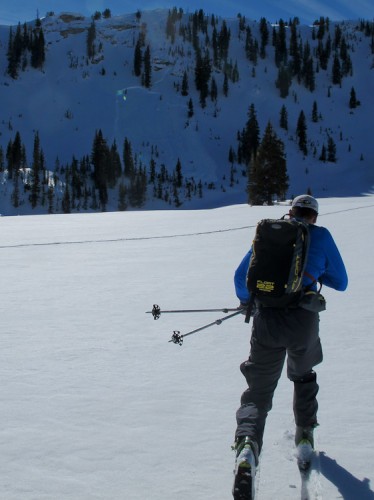 Doug Brockmeyer heading over to the debris pile just after hearing "Call 911!"
Even though we were only about a quarter-mile away from the accident, by the time we arrived 2-4 other random tourers, plus the initial responders were already there and had started to excavate the buried person.  By the time he was fully dug out, there were 12 rescuers, including three physicians, a few guides and a variety of people who had all of the gear and skills to help out on a burial.

The total burial time was 5-10 minutes and about 4′ deep.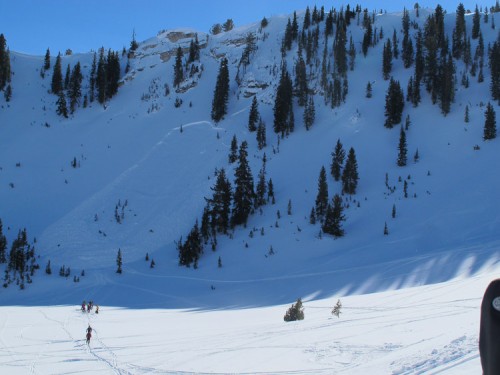 Twenty minutes later, the victim skied off under his own power (minus one pole) and everyone else got back to skiing. As mentioned in the previous posting, the bulk of debris came from a secondary slide which released just below the rocks after the skier triggered a smaller slide right near the skyline, which swept him over the cliff band.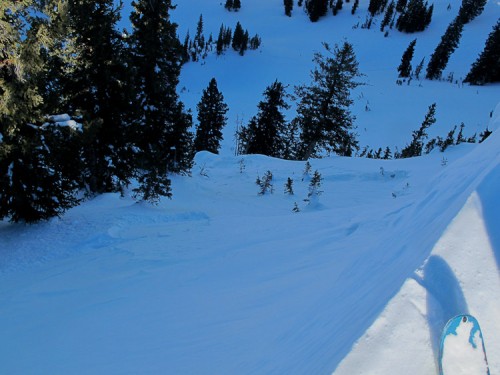 A view from the top showing the initial fracture line.
It is worth noting that even though calling 911 or Alta Central is good protocol, it took the helicopter and ski resort responders over 30 minutes to arrive at the scene, by which time everyone had left. Your best line of defense is to first not get caught in a slide, and second, to have good partners.
________________________________
Help support StraightChuter.com and move some snow with a Black Diamond Transfer 7 Shovel from Backcountry.com. Click on the photo below…
Category: Avalanche, Wasatch Mountains