I'm happy to say that I haven't had a ski boot related blister for years and the last one I did get came from trying to mold my own liners.  Some things are better left to the pros.
Here's the not-so secrets to my blister free success…
1) Go with boots that fit your feet.  I've been skiing in Scarpa's for years and am not sure if they fit my feet or at this point my feet have conformed to the boots, but whatever the case, Scarpa's are a known and consistent entity for me.   When I was into Alpine racing I wore a size 7 Lange, but for touring have gone up two full sizes to a size 9.
2) Use a thick, high quality sock like a Bridgedale, Smartwool or one of the new BC.com merino wool versions.  They are pricey ($25ish a pair), but they last forever, or seven years – which ever comes first.
3) Find an insole that fits your foot.  Some of the new boots come with substantial insoles (like the BD line), but I've found that SuperFeet fit my foot and are comfy.  I have been rolling them over for about five years and take them out of my old boots, then use them again for my new ones.
4) Use a good boot fitter who knows how to fit backcountry/touring boots, as a BC fit is different than an Alpine fit.  I've been going to Dennis Maw at Black Diamond in Salt Lake City who is a Liner Magician.
________________________________
Help support StraightChuter.com and ooze into a form-fitting pair of Scarpa Maestrale Boots from Backcountry.com. Click on the photo below…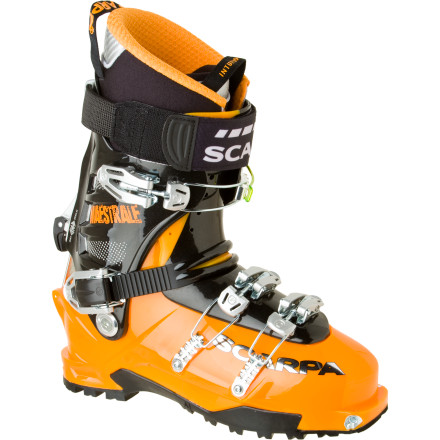 Category: 02 Gear, Gear Reviews