Wands are an obscure and trivial part of ski mountaineering, which makes them a perfect topic for straightchuter.com.  I've carried thousands of wands, placed hundreds and actually used them for emergency navigation about five times, which made it all worthwhile.  It's hard to describe how calming and reassuring finding a wand can be when you are stumbling around on a crevasse filled glacier in a total white out or during a storm with night time approaching.  At the very least, finding a wand means you aren't totally lost, and there may be a chance to hopefully find your old skin tracks back to camp.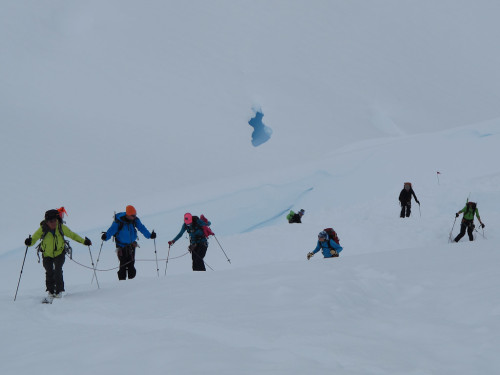 Flat light, big cracks and dubious weather.  The perfect time & place to start setting wands.  Antarctica.
Wanding Philosophies
I prefer to place wands where I WANT to go, not where I shouldn't.  In contrast, some people place wands to mark dangerous spots.  I first experienced this philosophy shift on a trip to Denali while we were lost in the fog at about 11,000′.  After a while, I finally caught sight of a wand in the haze, skied over to it and promptly fell waist deep into a crevasse which the wand was marking.  Marking hazards kind of makes sense, but if it is clear and sunny, the hazards will hopefully be obvious and avoidable, but if you are navigating by Braille, you'll want to stay away.  If I do mark a hazard with wands, I'll at least use two wands and form an "X" with them.
I try to mark broad, wide open spaces and back them up with GPS waypoints such that if I find a wand, I know that this is a safe spot and in the worst case scenario, I could dig in and wait it out.  If some tricky route finding is involved, I'll set a bunch of wands close together (50 to 100′) to establish the new direction.  If I am travelling roped up, I'll place the wands on the inside of kick-turns, which helps the rope track around the turn.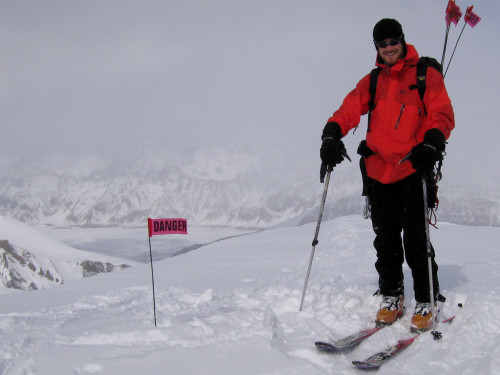 Grant Guise in the Wrangells of Alaska.
Quantity
How many wands to bring on a trip is always a fun topic for a ski-nerd debate.  For a moderately crevassed peak or route, I'll bring about 30-50 for the entire team.  If it is really crevassed terrain, which is where you need them most, I'll try to bring about 150 total per team.  If you need any more than that, you should probably be rethinking your travel strategies.  I've twice tried to ski a remote 9,000′ line in Alaska where we burned through over 100 wands in the first 1,500′, which begs the question, "Is this really such a good idea?"  If the terrain is so complicated that it has to be marked every 50 steps for thousands of feet on end, what is going to happen if a storm moves in for a week?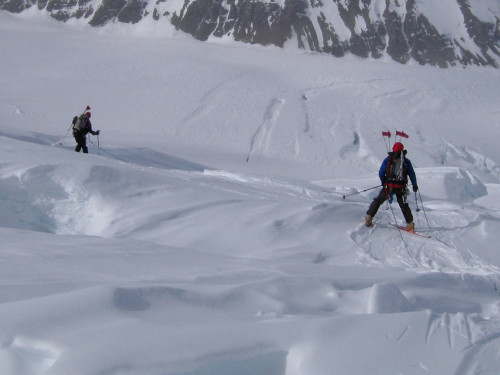 With 9,000′ of elevation gain and cracks every inch of the way, there are not enough wands on earth to adequately mark this bad boy.  So we bailed.  Twice.
I almost always place wands with the intention of retrieving them on the way back down, but on some peaks, the ethic seems to be to leave them for others to follow as well. On routes like the West Buttress of Denali, there are so many wands it resembles a picket-fence.  In areas like this, it pays to have distinctive wands so you know which are yours.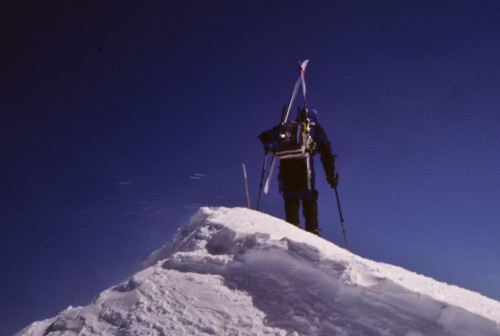 A wand marks the summit of Denali – just in case you were wondering if the route kept going up from here.
Aside from the big volcanoes in the Pacific Northwest, wanding is not very common, or even necessary, in most of the Lower 48.  Wands are helpful in open, glaciated terrain, but valleys, trees, rocks and ridgelines make far better navigational aids, as long as you pay attention to them on the way up.
Next: How I Make My Wands
________________________________
Help support StraightChuter.com and back up your wand settings with a Garmin eTrex 10 GPS from Backcountry.com. Click on the photo below.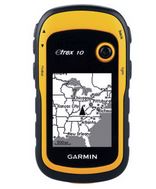 Category: 02 Gear, 05 Uphill, 06 Downhill, 10 Navigation, Tips & Technique