The Utah Avalanche Center is hosting its 4th annual snow & avalanche workshop this upcoming weekend and given how dicey last year was, there should be some good fodder for discussion. The workshop starts with a brief description of what made the conditions so dangerous and then goes into individual accident scenarios including the infamous Taylor Mountain slide in Wyoming and the tragic accident on Kessler in Utah. Jake Hutchinson will be talking about the overload of avalanche information that's available, followed by a discussion on backcountry litigation issues, and then a roundtable discussion with various Department of Transportation people in regard to popular roadside skiing.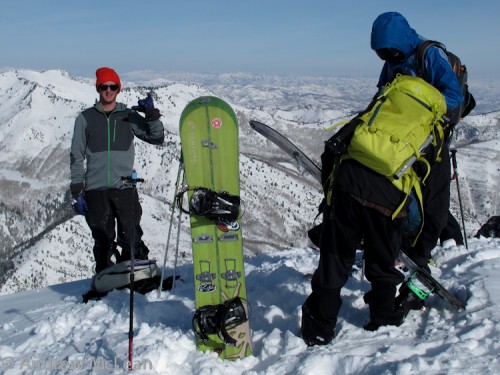 On top of Kessler with Alecs Barton just a few moments before his 2012 accident.
The cost is $26 and it begins at 1:00pm and then finishes with a social hour from 5:30 to 6:30.  It is at the South Towne Exposition Center, which means I'll have to break my pledge to avoid complexes ending with an un-American "e" (towne, pointe, centre, etc.) but it will be worth it for this event.
Directions and online ticket purchase here
I'm looking forward to the Taylor Mountain discussion because it not only brings up avalanche issues, but also the growing social issues of what happens when more and more people start going into the backcountry.  Should there be rules?  Should some areas be off-limits to beginners, or in the case of Taylor Mountain, supposed experts? Who is responsible for who? I've spent hour discussing this incident with avy-savvy people and it always bring up interesting comments.
________________________________
Help support StraightChuter.com and search through the debris with a Pieps DSP Tour Avalanche Beacon from Backcountry.com. Click on the photo below…

Category: Announcements