Alright, this didn't work so well last time as I didn't RTFM (Read The Fuggin Manual), so let's see if this SPOT Tracking of the Ski Utah Interconnect Tour works this time.
[iframe http://share.findmespot.com/shared/faces/viewspots.jsp?glId=0NSsmIxOIAvOYRTkXNiMt8BaHidxP1Rj8 680 680]
This version of the Ski Utah Interconnect Tour links up six resorts in a day and still leaves time for a fancy sit-down lunch halfway through.  I've done the tour once many years ago and am doing it again today as part of the Outdoor Retailer Show in conjunction with Mountain Hardwear.  There are two variations on the tour; one visits four ski areas (Snowbird, Alta, Brighton and Solitude) and the other one hits six (Deer Valley, Park City, Solitude, Brighton, Alta and Snowbird).  Both tours are 90% inbounds skiing with a bit of hiking to connect the resorts and they are a fun way to get the lay of the skiing land in the Wasatch Mountains.
My fingers are crossed that this attempt at SPOT tracking will work as the Interconnect tour would be an ideal venue for it because it covers a lot of ground (25 miles) in about eight hours.  The map above can be scrolled, zoomed, etc..
________________________________
Help support StraightChuter.com and track your total Interconnect vertical with a Suunto Vector Altimeter Watch from Backcountry.com. Click on the photo below…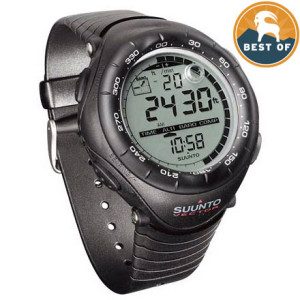 Category: Trip Reports