Never mind that last post. As part of an on-going winter of the weirdest weather I have ever seen, on Saturday we skied dirt in the rain, then on Sunday it turned to bottomless puking snow.  The snow totals for this season must look like a person (or a planet) going into cardiac arrest – up, up…. down, down, down..  nothing… down, DOWN, down, nothing… UP UP UP, down…. nothing. For comparison, as of Saturday 3/17, Alta has as much snow as it did on Jan 8th last year. It is like the season is just getting started and yet it is almost over.

But when it is good, it is really good. 3/18/2012
Today was one of those days where finding just the right angle was crucial – too steep was dangerous and too shallow meant you got bogged down and couldn't move.  We erred on the too shallow side and ended up doing a long tour with rough trail breaking with fun, but slow turns.  We probably could have cranked it up a bit, but so be it.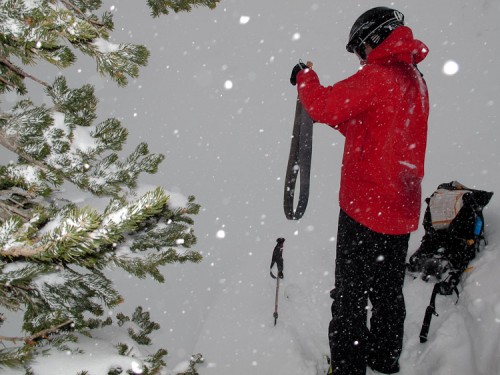 Pukage. We short-lapped this area and in places our skin tracks filled in within about an hour.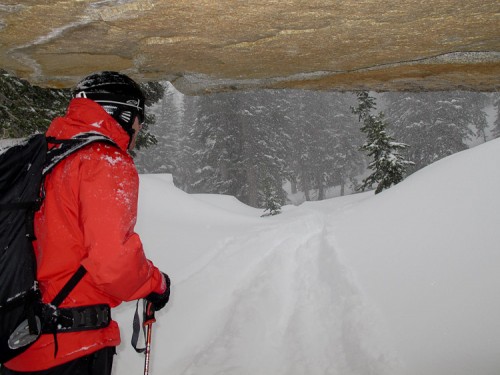 Shelter from the storm with a nice granite roof over your head.
________________________________
Help support StraightChuter.com and stay warm, dry and jovial in a Mountain Hardwear Jovian Jacket ON SALE NOW from Backcountry.com. Click on the photo below…

Category: current conditions, Random