Starting in 2006, I began putting together 8 x 10 inch "trip posters" to commemorate special outings.  I stole this idea from Ruedi Homberger, aka The Snow Monster, while I was on a trip to Switzerland and saw a similar trip montage in his house.  Ruedi's version involved cutting mats and carefully placing photos behind, whereas mine involves doing a hack job with PhotoShop.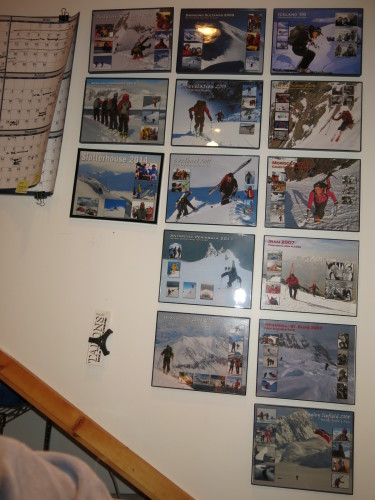 Had I known I was going to have so many fantastic trips with so many fantastic people, I would have started back in 1991 and had two to three times the number of posters.  As is, they serve as great reminders of trips gone by, and are an excellent memory aid for trips which have all blurred together.  When was that Iran trip (looking at wall….)?  Ah yes, 2007.
The posters themselves are pretty cheap and easy to make.  An online 8×10 print is about $2.00 and a frame is roughly the same.  I'll often make up multiple copies and mail them to trip mates, in which case the mailing cost is the biggest expense of the whole enterprise.
I start with a photo which has centrally located action and lots of space around the edges for additional smaller photos.  From there, I select 4 – 6 other action/people photos and scale them proportionally to 8×10, like 1.6″ x 2″.  Using a photo editing program like PhotoShop, I plug the smaller images in, add a cheesy title, a few drop shadows and then send it off to WalMart, who is my nearest photo shop.  I use a very basic thin black frame, in part because I like the look, but also because they are easy to find.
The posters always bring a smile to my face as every trip has so many layers of stories and people behind it.  I've been able to find the original images from my past 14 trips and plan to post them up as time allows, which given my current pace of postings should take us through 2028.  Stay tuned.
________________________________
Help support StraightChuter.com and pack up for your next trip with a Mountain Hardwear Expedition Duffel Bag from Backcountry.com. Click on the photo below.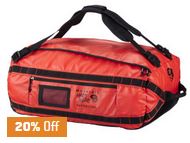 Category: Projects, Trip Reports