The Pfiefferhorn is the Wasatch's version of Switzerland's famous Matterhorn peak. Like the Matterhorn, the Pfieff is triangular, sharp, jagged and can be seen from all around the mountain range.  In a splendid act of geological creation, it has a splitter couloir that runs right from the summit all the way down the northwest face with a 75′ cliff right in the middle of it, which tends to keep the riff-raff away.
My partner for the day was Jared Inouye, who I'd only met once before at the top of MBA (Mill B Aspens), but have gotten to know as he is helping to keep the PowderKeg race alive.  Since we had never actually cranked turns together, this was kind of a first-date-from-hell, but hopefully the mental scaring will heal soon and Jared will be up for more, which would be excellent as he's a super-strong partner.
The Pfieff has no mercy.  It goes from steep with huge exposure to steep with tricky skiing, to steep with a rappel, to just plain old steep and then on to a final apron, which would be nice, except center-punching an avalanche slope is your only option for getting down.  Today's conditions were firm up high (understatement), but stable down low.  Pick your poison.
The Pfiefferhorn gets its classic status not so much for the actual turns, but more for its mind-blowing location.  A trip down the Pfieff is kind of like floating in a sea of creamy Italian Tiramisu while being devoured by piranhas at the same time.
 Tomorrow: A cold pit in your stomach.
________________________________
Help support StraightChuter.com and punch a booter up the Pfieff with a pair of Scarpa Spirit 4 Alpine Touring Boots from Backcountry.com. Click on the photo below…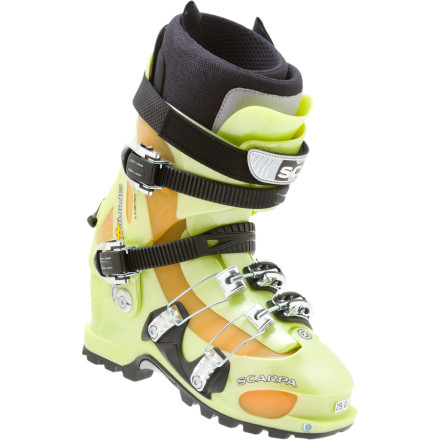 Category: current conditions