#10 – The South Face of Mt. Superior
If the Wasatch Mountains were to have one single classic mountain face, it would have to be the South Face of Mt. Superior.  It has been memorialized on the label of Wasatch Beers "Superior Ale" and anyone who has skied Alta or Snowbird can't help but look up and see it.
At first glance, Superior almost looks too steep to ski, but once you get a proper side view of it, most of the face is a very skiable 30-40 degrees.  It starts with a classic pointy summit, opens into a steep hanging snowfield, filters through a series of tight chutes (the crux), then hits a diagonal collector ramp which finally funnels skiers onto huge, wide open aprons.  In true Wasatch style, you can ski every last inch right to the road for a run that measures out to almost exactly 3,000′ vertical feet.
The South Face is almost like a ski area unto itself with variations like Little Superior (aka Inferior Superior), Suicide Chute (aka Country Lane), Pinball Alley and many other alternate lines.  Facing due south, it gets maximum amounts of sun, but some also has some deep dark features that, against all logic, shelter and protect pockets of powder.  It's not uncommon to get anything from glare ice to soft powder, and everything in between, on a single run down Superior.
A video from Derek Weiss (Piton Productions) showing Superior as it should be:
In many ways, the South Face of Superior is the perfect antithesis of the Y-Couloir, which was the first ski descent of this project.  The Y is low elevation, north facing, narrow and sheltered, whereas the SF of Superior is high, south facing and wide open.  Oftentimes when one is good, the other will suck, as was the case today when Mother Superior was in the foulest mood I've ever seen her in with rocks, ice, flat light, frozen debris and rock-hard ski tracks.  To cap it off, halfway down it started to rain.  On the positive side, I had the entire slope all to myself.
Superior can be ascended by going straight up the South Face (popular in the spring as alpine climbing practice), but most of the time it is summited via the shapely and aesthetic east ridge, which starts at Cardiff Pass (aka Pole Line Pass) right above the quaint hamlet (?) of Alta.  In a fat snow year, the ridge can be done entirely on skins, although most of the time there is a nice booter in for the final quarter of it.  One of my favorite sections of the entire outing occurs right near the summit where a rock rib forms a wild catwalk in the sky with big air on each side.
As a bit of Superior trivia, the true summit of Mt. Superior is what backcountry skiers commonly call "Monte Cristo."  The summit that is commonly skied from is unnamed.
Tomorrow: New snow?
________________________________
Help support StraightChuter.com and ski Superior with the superior Mountain Hardwear Spearhead Mitten from Backcountry.com. Click on the photo below…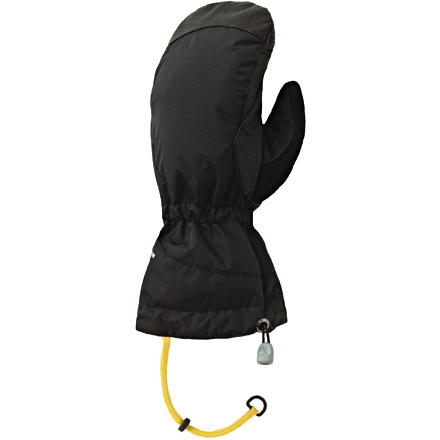 Category: current conditions