#6 – NE Couloir of Lone Peak.
Yow!  What a spectacular line! If the NE Couloir of Lone Peak were closer to civilization it would be skied on a daily basis.  But, as it is, the King of Couloirs is guarded by a long approach and today it looked like we were probably the first people in it this season.
In an endless quest to find the easiest way up there, we tried going up Coalpit #4, then traversing over and climbing up the NE Ridge.  This was fun, but with 7,750′ of climbing, it is not the easiest way by a few thousand feet.  Oh well – luckily Fred Marmsater and Courtney Phillips like to suffer, so we did.
The NE of Lone has a lot going for it.  It is in the Lone Peak Wilderness area, which is surrounded with beautiful clean granite and has a commanding view of the Salt Lake Valley, as well as all the way down to Provo and Mt. Nebo, which is the southern end of the Wasatch range.  We saw two sets of tracks in the Bells Canyon drainage, but aside from that, it is a high, lonely corner of the central Wasatch.  The couloir itself splits the north face right down the center and at a sustained 45 degrees with a cliff at the bottom, it keeps your attention all the way down.  As an added bonus, since it is in the Lone Peak wilderness area, the pesky Wasatch Powderbirds can't fly in and drop a group on you.
The top of the couloir has a knife-edge ridge which drops down 500+ feet on the backside, so we opted for the safer (a relative term in this case) side entrance.  The first ten feet were a bit icy, but then, ohhhhh yeah… it turned to creamy, steep, old powder.  Hmmmm – just right for steep skiing.
The bad part about approaching Lone Peak from Coalpit #4 (Little Cottonwood Canyon) is that you have to climb up it, then drop back down the other side, then reverse this on the way back out.  The good part of this is that you don't need a car shuttle, and, you get to ski Coalpit #4 if your jellied legs can stand it.
 And thus endeth the north facers.  They were all mighty fine.
 Tomorrow: It gets under your skin.
________________________________
Help support StraightChuter.com and travel light & fast with a Black Diamond Covert Pack from Backcountry.com. Click on the photo below…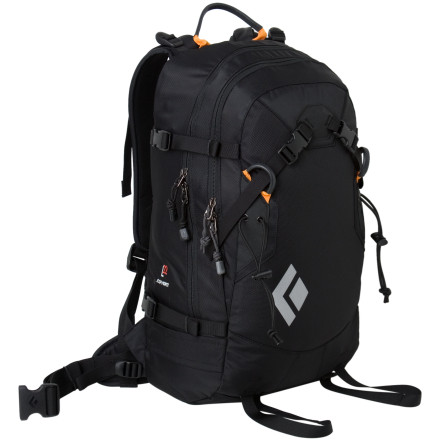 Category: current conditions