With a vertical drop of 5,000′, Lisa Falls is the biggest of all the magnificent south facing couloirs that line Little Cottonwood Canyon.  When I first skied it roughly fifteen years ago in knee-deep sub 5% powder on a clear, sunny day, it was such an incredible experience that it sold me on the virtues of backcountry skiing and I've hardly been back to the resorts since then.  A trip down Lisa Falls is an epic adventure, with a headwall, upper couloir section, middle aprons, lower couloir section, a rappel (most likely), then a tight lower that suddenly spits you out right onto the LCC road.  Being south facing, it is hard to get in powdery conditions, but the skiing is almost secondary to the overall experience anyway.
Noah Howell pointing out the big gal from across the valley.
Lisa Falls starts right at the gap between the two peaks that form Twin Peaks and slithers all the way down.  When conditions are right, my approach of choice is to go up the Tanners slide path, then drop a nice north-facing powder shot before climbing back up to the ridgeline and over to the summit of Twin Peaks.
Jared Inouye booting up Tanners at first light.
Bart Gillespie following the "Lost Again" variation.We climbed until the earth fell away in all directions around us.
A cool aspect of Lisa Falls is that it is so huge that at some point you are likely to find good skiing.  Today's outing had everything from bullet-proof ice to chudder-mank avalanche debris, wet slop, rocks, powder, running water, corn and breakable crust.  It is all just part of the package. 

Part of the appeal of skiing Lisa Falls is that it takes every trick in the book to make it down in one piece.  There's climbing, sideslipping, rock hopping, rappelling, great skiing and crap all rolled into one.

The rappel in Lisa Falls is almost more of an annoyance than anything.  It can be avoided by skirting hard left, but you are trading lots of little miseries for one big one.  I prefer to just set an anchor (a piece of wood as a deadman backed up by a sketchy willow tree) and get it over with.  I've misunderestimated (see you W – have a nice life) how long it is twice and ended up leaving my ropes both times as I've had to tie them off full-length and leave them.  Such is the price of having fun and there is more rope where this came from.  :)

Tomorrow:  Looking for a little love…
________________________________
Help support StraightChuter.com and pick up the ultimate ski jacket on earth, the Mountain Hardwear Vertical Jacket from Backcountry.com. Click on the photo below…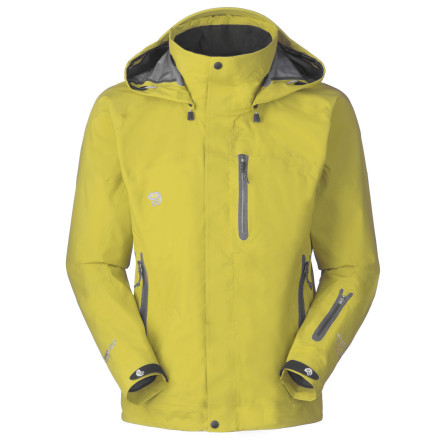 Category: current conditions