#2 – Argenta 
The Chute du Jour this morning for the Top 10 in 10 quest was Argenta in Big Cottonwood Canyon.  This is a perennial Dawn Patrol favorite as it is so close to the road that the asphalt often gets covered, or at least dusted when Argenta avalanches, plus it has a huge variety of skiing in it.  The moderate lower aprons are fun when the headwall might be avalanche prone, then if not (as today), the upper headwall has some excellent steep tree skiing, as well as a few gullies/chutes.  Not only that, but UDOT plows a parking area right at the base of it, which means the approach is literally a matter of seconds – down a slope, cross the river on a snowbridge and start up.
The word argenta means "something silvery or white" which is fitting for this monster north-facing slide path, as there is always plenty of white snow on it.  The name may also refer to some mining that was done around the area (Argenta Mine?) and a few of the old structures can still be seen.
One of the big incentives for continuing up all 3,250′ to the top of the run is that you go from a dark forest to instant sweeping views of the central Wasatch in just a few steps.  On Dawn Patrols, this is especially dramatic as you are stepping from darkness to brilliant morning alpenglow.
Right near the summit, you pass by the entrance to the yummy looking East Couloir of Kessler Peak.
The summit of Kessler Peak is a good place to pick up the litter the Wasatch PowderBird Guides often leave, then step into your bindings and start the long journey down.
There was a massive skin track on the lower aprons this morning and probably 20-30 sets of tracks on it, but Argenta is big enough that we were still able to easily find plenty of untracked.
Notes on the Top 10 in 10 project:
– The lines are being skied in order of relative safety, with the north facers being the toughest to get, so they get done first.
– "Top 10" is admittedly a very subjective idea and my top 10 will probably be much different than other skiers.
Tomorrow: The Stair Master
________________________________
Help support StraightChuter.com and ski something silvery in a spankin' new Mountain Hardwear Vertical Jacket on sale now at Backcountry.com. Click on the photo below…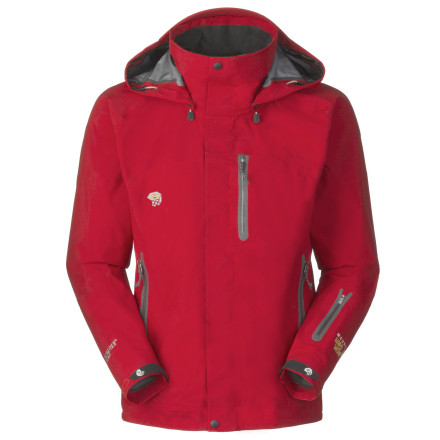 Category: current conditions