If you live in the Park City or Synderville Basin area of Summit County, Utah, there is an exciting opportunity to purchase one of the last few undeveloped canyons in the area.  Toll Canyon shares boundry edges with three housing developments, Summit Park, Timberline and Pinebrook, as well as topping out on, or near the Wasatch Crest Trail. For years it has been owned by the Sorenson family and they are offering the 781 acre parcel at a reduced price so it might be kept as open, public land.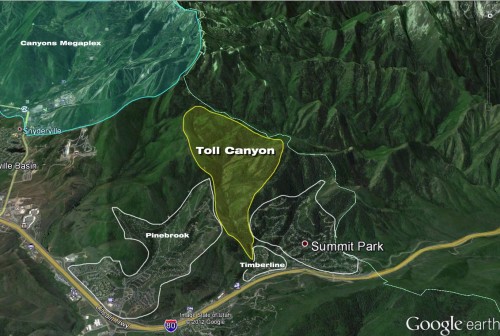 The approximate Toll Canyon parcel with its three surrounding neighborhoods and ridgeline.
The bulk of the 6.1 million dollar price tag ($7,800 per acre) has already been raised or pledged by Summit County, Park City and Snyderville Basin Recreation District, but there is currently about a $200,000 shortfall that can hopefully be made up with private donations. These would make an excellent Christmas gift, especially as the deadline for raising the money is December 31st.
There are a variety of ways to contribute to this cause.  If you are busy and just want to cut to the chase, pass go and head directly to the Utah Open Lands donation page.  If you'd like to research it a bit more and find out about other options (pledges, the land, why it is important, etc.) the Utah Open Lands main website has it all.  If you'd to get a party out of the deal, there is a fundraiser being held tonight, Thursday Dec 13th at the New Park Resort Skybridge, 6-8pm.  Please RSVP or call 435.649.3600 for more info.

Photo by Troy Madsen
We are donating in the names of our two daughters, who although they may not appreciate it as much as a Disney Princess costume, will hopefully thank us in the future.  It is a beautiful plot of land with excellent hiking, biking, skiing and wildlife opportunities.  It would be a shame to miss out on it and it is a great way to proactively preserve public land around Park City, rather than fighting development.
________________________________
Help support StraightChuter.com and keep Toll Canyon open and colorful with a Mountain Hardwear Ghost Whisperer Down Jacket from Backcountry.com. Click on the photo below…

Category: Announcements, Wasatch Mountains