Another favorite image from my two day scanathon, which is now thankfully complete.  From where I now sit I will scan no more forever.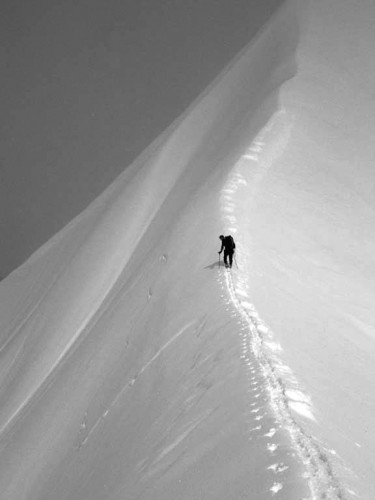 This is Lorne Glick skinning up an endless ridgeline on Thunder Mountain in the Alaska Range mountains in 2003.  The snow was slightly sticky powder which enabled us to push the skintrack angle up to 40 degrees (measured) at one point.  The ridge went on like this for a few thousand feet.
Learning to love the up is a big turning point in backcountry skiing.  Once you stop fighting it and get into the groove of moving, the sport suddenly becomes much more fun.  The descent is the icing on the cake, but ascents like this are akin to a ten pitch 5.10 hand crack in the desert – it is such fun cruising that you barely notice the physical effort.
________________________________
Help support StraightChuter.com and skin to infinity with Black Diamond Ascension Nylon STS Skins from Backcountry.com. Click on the photo below…
Category: Random