Although I worry about it all the time, last weekend was the second time in my skinning history that I actually lost a skin while skiing, which creates a dilemma; do you posthole back uphill through deep snow in the hopes of finding it, or accept the loss and sacrifice your lone skin to the experience gods?
The first time this happened to me, I saw the skin go flying off the ridgeline, over a cliff and into a valley with a powerful wind gust, so the decision was pretty easy.  The second time I had to ponder it a bit harder, but as we were on a schedule, I pulled out my Leatherman Micra knife, channeled my inner Aaron Ralston and sliced my single skin down the center.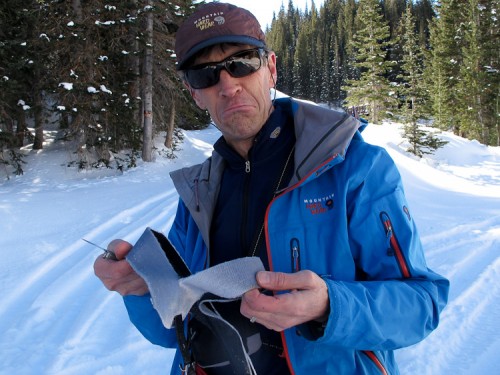 While obviously less than ideal, a two skinny half skins are still way better than booting, especially in soft snow with miles to go. I saved the tip/tail connectors on one side, then created a tip loop with a short piece of thin accessory cord on the other, and held the tail in place with a Voile strap.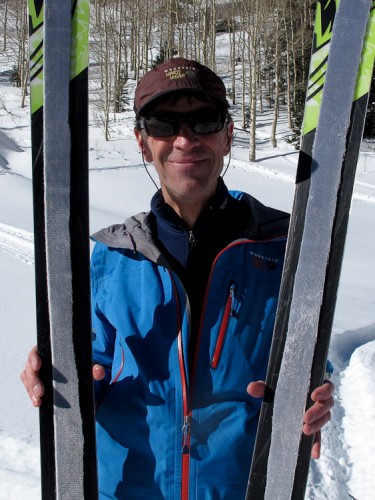 In dry, powdery conditions, I prefer to stash my skins inside my jacket after each ascent as just a few minutes of body heat are often enough to melt any snow crystals, which are often the bane of blown skins. I can usually count on my pack waist belt to secure the bottom of my jacket, but I've been skiing with a light pack lately and just using the sternum strap, so a skin fell out somewhere on the 1,800′ descent.  Ooops.  Lesson learned I guess.
________________________________
Help support StraightChuter.com and cut through your skinning tears with a Leatherman Micra Multi-Tool from Backcountry.com. Click on the photo below…
Category: 02 Gear