STOKAGE! Scot Schmidt has the Schmear Turn, the Eagen Brothers are credited with the "1-2-3 Turn" and Sylvan Sudan is synonymous with the Pedal Hop Turn, but until recently, all I had was a stupid website with a hard to spell url.  But no more.  In a bit of a backhanded compliment, the McClean Turn is now defined not by what it is, but what it is not.  From the original context:
Jer and I wanted to ride this with a unique touch. As much as I love the guy and respect everything he's done, we did not want this to be an McClean 168cm hopped turned descent. We wanted to flash this thing. Edge to edge, continually and fast.
In terms of what it actually is, the McClean turn can be described as:  "A tight series of ultra conservative backcountry turns made at less than one-half of the skiers rated output and in a manner where every turn is fully brought under control before the next one is started."  In other-words, oLd sKOOl and boring.
The McClean* Turn has its roots in the backcountry school of hard knocks.  Like many people, I learned how to ski at the resorts and brought my resort attitude into the backcountry where I spent my first year jumping cornices, center-punching slopes, skiing on the biggest boots and longest skis I could find, and going as fast as possible as often as possible.  I wasn't there to munch granola and hug trees.  But, after a few too many close calls and being involved in a fatality, I started to ski much more cautiously in the backcountry with the idea being that I wanted fresh legs and plenty of power in reserve if a slope fractured under my feet or if I hit a patch of ice, a rock or snagged a tree.  As I continued backcountry skiing, the actual turns and descent became less important than the overall game of route finding, avalanche assessment, efficient movement and the backcountry experience as a whole. In short, my actual skiing skills started to deteriorate at roughly the same level as my overall backcountry skills appreciated.  Nowadays, one of the reasons I hardly ever go to the resorts is that my skiing skills have diminished to the point that I always feel like I am skiing like a complete hack, which I am.
I felt a little conflicted about this until I saw Pierre Tardivel skiing in La Grave one day.  I was seated on the patio at P2 when someone pointed to the Y Couloir (pronounced "egrete" or something like that) and said it was Tradivel skiing it.  From below (and even from above), it is a strikingly steep, no-fall line and he was skiing it in smooth, steady, cautious turns.  When he dipped out of sight, I put my skis on and waited for him to funnel back to the lift so I could say hello.  In that area, a cat track brings everyone back to the lift, and as he merged with the other skier traffic, it was hard to tell him from any of the other moderate skiers as he has a blocky, conservative, nondescript style of turns that comes from years of skiing steep lines without falling, and this style doesn't necessarily translate into flashy cat track skiing.  More than anything, I thought it was cool that he had just fired one of the steepest lines at La Grave, then melted into the scenery when he rejoined the rest of the skier traffic.  I decided I wanted to ski like that, and pretty much have ever since.
* The name is unintentionally misspelled, perhaps to protect the guilty.
________________________________
Help support StraightChuter.com and add some steeze to your McClean turns with a Mountain Hardwear Pavo Visor Beanie from Backcountry.com. Click on the photo below…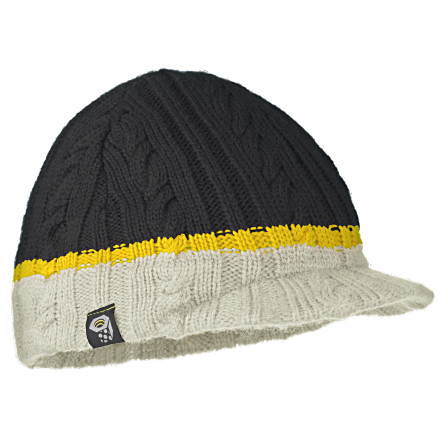 Category: 06 Downhill