I attended a lunchtime presentation in Park City yesterday as the keynote speech by Michael Berry was "The Future of Skiing" and it promised to answer the question about why skiing growth was flat and what was going to happen when the Baby Boomers exited.  I was eagerly awaiting the magic words "Resort skiing has become moronically expensive and we need to reduce ticket prices by at least 60%…" but they never came.  Instead, it was almost the opposite, and at one point a speaker even stated that one of her organization's goals was to "increase the daily spend" of people who come skiing in Utah.  Sigh.  But, it was still interesting.
Annual skier days in the US have been around 57 million for the last 5-10 years, with about a 1% growth.  Of this, there are about 9.5 million "active" skiers in the US who make up the majority of the visits.  Eighty-five-percent of the people who try skiing for the first time never return and fear is one of the biggest obstacles to getting people to try it.  Getting beginners hooked is tough, and in that regard, shaped skis were a boom to the industry as they made learning easier.  Three-percent of America skis, and Albany, NY has the highest percentage of skiers in the US (not sure how that was measured).
Skiing and ski areas are considered "multi-generational gathering areas" for families, and when it comes to making vacation plans, Moms wear the pants, or Bogners in this case.  The "magic line in the sand" for skiing families is an annual household income of $75,000 or more.  Below that (or if the weather sucks), people won't go.
I've been out of the resort loop for a while, so whenever I do go, I'm blown away by the prices.  For $100ish per person, per day, it better be damn good, but apparently people don't seem to care.  As far as this goes, Michael admonished the ski industry to "… not retreat from the quality experience.  If people are use to sleeping on 400 thread count sheets, you can't go back to muslin."  Much of the emphasis on keeping existing skiers skiing is aimed at increasing the quality of the experience, which basically means adding value, whether you want it or not.
One of the more interesting points, at least for me, was a comparison of early skiers who were considered "elite athletes" because they had to master floppy boots, stiff skis and dicey bindings.  Through steady improvements in grooming and gear, the athletic bar has been lowered, while the financial bar has been correspondingly raised, which makes today's skiers elite earners.  Sure, there will always be dirtbag skiers, but it is less the norm nowadays.
Hmmmm.  There you have it.
________________________________
Help support StraightChuter.com and make those ticket prices easier to swallow with a Laken Flask Kukuxumusu Stainless Steel Flask from Backcountry.com. Click on the photo below…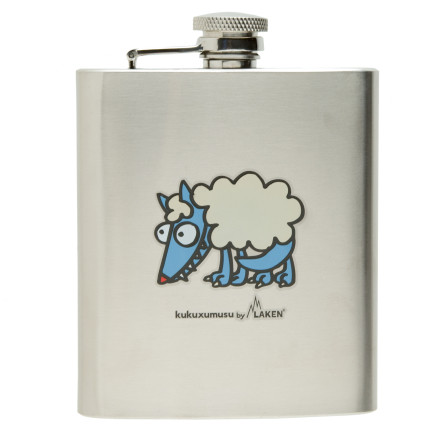 Category: Commentary