Having hit 40,000′ of climbing and skiing at the 24 Hours of Sunlight, I'd like to say I can now rest easy, except I'm still in too much pain.  Someday, hopefully soon, I'll rest easy, but the best I can do until then is just to be very psyched.
The first year I did the race I had absolutely no idea how much vertical I could do as my biggest day of touring before that had been about 12,000′.  So, 20k?  30?  I ended up hitting about 36,000′ that year and right at the end realized if I had been more consistent, I might have hit 40.
Having a goal for a race like this is incredibly useful as it helps with pacing.  Forty thousand feet means a lap average of 53 minutes, or climbing at an average of about 1,850′ per hour.  This isn't bad at first, but at least in my case, I had to assume that I was going to slow down towards the end, so the first laps would have to be a bit faster, the middle would have to be right on average, then the end could get a little slower.  The subtleties of this is that if you start out too fast, you'll burn out faster as well.
My main interest in hitting 40k was that;
    a) it is a nice round number,
    b) I came close to it last time
    c) One of the first times I met Greg HIll he had recently done a 40k and I thought,and still think, it was a very cool goal
    d) There is/was no way in hell I will ever hit 50k.
While the race itself was fun and all (??!?), one of the great things about busting out a new personal high is that now a "big" day of touring, like 15,000′, no longer seems so daunting, especially as you now know what to expect.  It's a bit like rock climbing exposure in that after you have climbed something like the 3,000′ El Cap in Yosemite, little 1,200′ walls in Zion seem like child's play.
As a soloist, the race itself is pure drudgery.  Contestants go up one groomer, then down another, then repeat until they explode.  At one point my stomach was so hammered that I ended up doing a progressive four-part hurl on the course, which alarmed the racer nearby me much more than myself.  "Hey #1 – are you alright?  Do you need help?"  I actually felt much better and kept going.
In the Misery Loves Company department, it was interesting to hear Eric Sullivan (the race winner and course record setter with 51,000'+ a year ago) say that he had withdrawn for a few laps as his stomach was punched out as well.  He said something to the effect of "You need to consume a lot of high energy food and drink, but it is hard to digest a stomach full of it in a single lap." Keeping solid food down is definitely my biggest challenge during 24 hour races and it would probably be well worth it to stop in the future and just force something down.
From a techie standpoint, there are quite a few little tricks of the suffering trade if you are interested in giving it a try.  An attentive pit-crew is essential, and in this case we were lucky to have Courtney Phillips from Salt Lake City and Lou and Lisa Dawson from Carbondale helping us (Polly, Andrew and Rick) out.  Having two pairs of skis and multiple pairs of skins helps so that you can step out of one and go directly into another.  An outside tent vastly increases the creature comfort of the pit crew, especially if you can set it up with heaters and a stove.  It gets fairly cold at night, so drinking warm (but not hot) fluids is a luxury.
Perhaps the biggest advantage of hitting 40,000′ is now I don't feel compelled to do the race ever again.  :)  But, it is a great adventure in human endurance & spirit, so I hope to be back next year either as part of a team or better yet, to help someone else hit their goal (Courtney… Griber…).
________________________________
Help support StraightChuter.com and get credit for every inch you climb with a Suunto X6HRM Stainless Steel Altimeter Watch from Backcountry.com. Click on the photo below…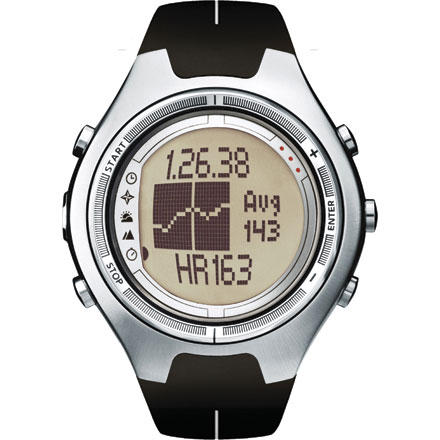 Category: Racing