Welcome to the Wasatch.  Now pick a side – pave it or preserve it.
There's a lot to be said for the Wasatch Mountains, especially from a skiing/boarding standpoint.  They are very riding friendly, have easy access, are close to a major metropolitan city, close to an airport, have seven major ski resorts and also have an abundance of light, deep snow. Technically, the Uinta-Wasatch-Cache National Forest entails 2.48 million acres of land, but much of that is lower elevation, brushy or lacks winter road access, which makes it undesirable for skiing.  Conversely, upper elevation areas (above 7,000′) with year-around road access are very desirable for skiing, but in short supply. The area famous for "The Greatest Snow on Earth" is actually quite small – roughly 5 x 20 miles, or 64,000 acres. This area is known as the Central Wasatch or the Tri Canyons area (Little Cottonwood, Big Cottonwood and Mill Creek) and is ground zero for 99% of the fussing & fighting you hear about in the Wasatch.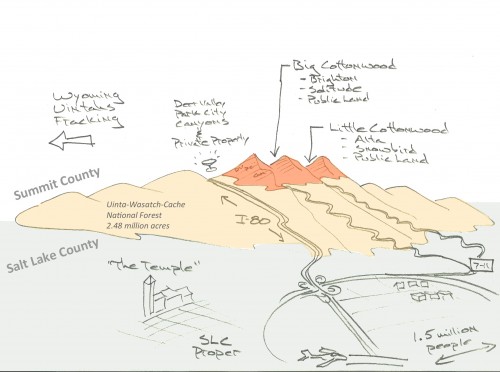 The red mountain tops represent the prime terrain above 7,000′ in the Central Wasatch, which is where most of the user conflicts takes place.  The seven resorts are approximately located on the shady north sides of the highest peaks.
Being firmly in the "preserve it" side, I've had 2-3 occasions to take out of town journalists on a sightseeing tour, and once we reach a high vantage point overlooking the Central Wasatch, they have all had the same reaction – "I had no idea it was this small!" And it really is.  Ski Utah promotes an Interconnect Tour where you can ski six major resorts in one day, but what they aren't saying is that you can easily do this on foot as well, and not only that, you could then reverse the route and make it back home with daylight to spare.  Unfortunately, hiking the Interconnect in the winter is only hypothetical as the entire Park City side is private property and three out of four of the other resorts, which are on public land, don't allow uphill traffic.
As the Wasatch is so small and has so many resorts close to each other, it has brought up the question "Why aren't they all connected?" for close to fifty years.  I have no idea why it wasn't done in the past, but currently favor an idea I heard from Will McCarvill, a long time Wasatch backcountry user – "When people talk about compromise and sharing, what they forget is that years ago the public made a major compromise when they gave away all of the prime, upper elevation, north facing terrain at the head of the canyons to the ski resorts.  We've already made a huge compromise."  Having been born in Salt Lake City and then spent the last 25 years touring around in the Wasatch backcountry, I'd have to agree – the resorts are constantly barging at their boundaries and trying to gain more public land, mainly in the name of creating marketing buzz.  Enough is enough.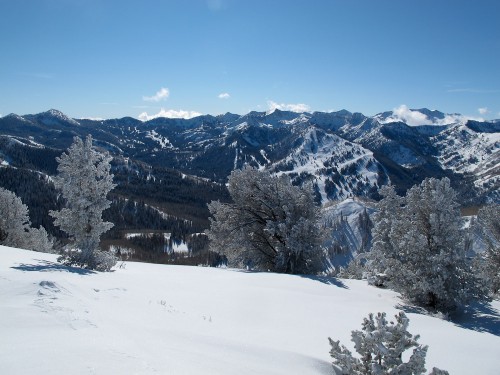 Standing in one resort, Canyons, with five others visible in the Central Wasatch.
The latest twist on the interconnect idea recently surfaced as ONE Wasatch.  I'm not sure why the ONE is capitalized – maybe it is an acronym for Ours No-one Else's, but in any case, this time they promise to do the whole thing on private land.  This may be, but it begs the question, why hasn't it been done already? For some resorts (Snowbird, Solitude and Deer Valley), it would just be a matter of cutting the boundary ropes and/or changing their policies and ticket prices, but for others, it would be a huge investment.  Alta would have to construct at least one and probably two lifts up Grizzly Gulch, plus all of the maintenance and avalanche control work to keep them open, just to help people leave their resort.  Brighton, or whoever owns the Mill F area in upper Big Cottonwood would be in the same boat – creating and maintaining a high-altitude, south facing lift just to shuttle people out of their area.
Some concerns:
A Tale of Two Counties
The Wasatch Front (Alta, Snowbird, Brighton & Solitude) is located in Salt Lake County, which is very concerned about preserving and protecting the watershed as it supplies 1.5 million people with drinking water.  The Wasatch Back (Deer Valley, PCMR and Canyons) is in Summit County, which is mainly rural and could care less about… most things.
Lodging Vs. Powder
It's a cruel irony that the Park City side has tons of room for hotels and expansion, but lacks the quality and quantity of the snow three miles away in Little Cottonwood Canyon. Conversely, Little Cottonwood has great skiing, but no room to grow the real estate. The idea with interconnect is that you could stay in Park City and ski in Alta, but that's not going to do you much good when the lifts stop running at 4:15pm and you are stuck in the middle of nowhere.
Traffic
AKA "trafuck" in Little Cottonwood Canyon, where all it takes is one car skidding off the road to completely shut down the whole canyon and deliver a 2 hour commute to go 12 miles for all of the thousands of people who are trying to get out.  A new comprehensive study  called The Mountain Accord has been set up to study this problem.
Skier Numbers
Skier days have flat-lined at about 4 million annually in Utah and aren't even keeping up with population growth. ONE Wasatch feels that by connecting all the resorts it will draw more customers, but that has not been the case in other connections, most notably when Whistler and Blackcomb were joined.  About 1% of the US population skis, and in Utah it is about 5%. To someone like me who grew up skiing at resorts, the reason for the decline seems painfully obvious – the sport has gotten very expensive.
Backcountry Usage
When lifts go in, the nonpaying public is shut out.  Sure, some of the ONE Wasatch areas may already be private property, but for whatever reason they have been allowing people to access it for years.  There is lots of talk about making the Wasatch more European, but one main difference is that in Europe the public is allowed to walk over open private land.
Interconnect Reality
It would take 6-8 lifts, each way, to start in Snowbird, have lunch in Park City and return. If anyone of those lifts isn't working, there's no interconnect.  If you get halfway through your return tour and the lifts close, you are stuck in Big Cottonwood Canyon with no car or way of getting back.
________________________________
Help support StraightChuter.com and get the scoop on the Wasatch backcountry with a Black Diamond Transfer 3 Shovel ON SALE NOW from Backcountry.com. Click on the photo below.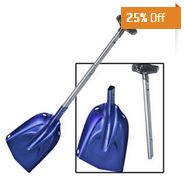 Category: Wasatch Mountains