Between ten days of skiing and then having the Outdoor Retailer show come into Salt Lake City, it has been a good reminder of how fortunate I've been to have so many excellent skiing friends.  I'll occasionally go skiing solo, but it is people and friendships that really animate the mountains for me. Below, I've attached a few photos from friends who partook in the 10 in 10 descents.
Strategy
North facing lines are a bit of a double-edged sword, which is why I decided to ski them all first.  They preserve powder longer than other aspects, but can also have lingering avalanche danger.  They can go from being "in" to dangerous with just a small storm, then remain that way for 4-5 days (or longer), so my philosophy is to ski them when you can, then leave them alone when they are sketchy.  South facing is just the opposite, where the slopes don't preserve powder for very long, but they tend to stabilize quicker.  With any luck, south facing slopes will cook down within a few days, so even if you miss the 24 hour powder period, after that it doesn't matter as much whether you are a day late or five days late as you'll be skiing firm snow either way.  East and west facing slopes (known as "the off-aspects") are somewhere in between and can be a crap shoot.  The Needle is east facing, but because it is in such a deep cleft, it stayed soft.
The lines and the approximate vertical to climb/ski them:
The Y-Couloir – 3,200′, north, 2-4 hours RT
Argenta – 3,250, north, 2-4 hours RT
Stairs Gulch – 5,000′, north, 3-5 hours RT
NW Couloir of the Pfiefferhorn – 4,750′, NW, 4-6 hours RT
Coalpit – 5,000′, north, 3-5 hours RT
NE Couloir of Lone Peak – 7,750′, north, 6-8 hours RT
The Hypodermic Needle – 4,990′ east, 4-6 hours RT
Lisa Falls – 5,000′, south, 5-7 hours RT
Little Pine – 3,300′, south, 2-4 hours RT
South Face of Superior – 3,000′, south, 2-3 hours RT
Total Vert = 45,240′
As a few partners pointed out, it would have been far easier to lump a bunch of these together (Pfieff, Needle & Coalpit can all be done in a day), but that would be beside the point of a Top 10 in 10 project.  The name "The Chuting Gallery" originally came from a day tour that connected the NW Couloir of the Pfieff, then The Hypodermic Needle with a finish out the Y-Not just for good measure.
Picking the Lines
I had picked out about seven definite "classic" lines and had a list of five or so others, but after skiing the first whack of them I decided to keep the top ten list to the central Wasatch.  Areas like Timpanogos, Nebo, Box Elder or the Wellsville range are not only slightly removed, but are also so big that you could almost pack in ten classics in each of them alone.  Of these areas, the big classics would include Cold Fusion on Timp, Box Elder and the NW (?) Couloir on Nebo.  Other considerations might be some lines in Wolverine Cirque (steep, but short), Heart of Darkness (great visuals, so-so skiing), Tanners (big, but undulating) and a few others.  In the right conditions, its hard to go wrong.
As a side-note, with the twenty-plus inches of new snow Utah received in the last two days and with more on the way, I wouldn't ski any of these lines right now and it is back to low-angle trees, or Geh Flat Powder as Dylan says.
________________________________
Help support StraightChuter.com and keep your legs warm, dry and comfy with a pair of Mountain Hardwear Vertical Pants from Backcountry.com. Click on the photo below…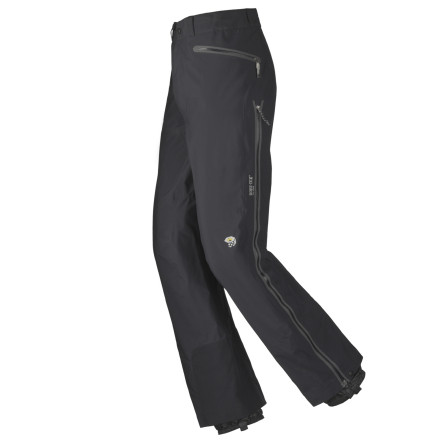 Category: Random