Svalbard is to Europe as Alaska is to America – a land of snow, ice & rocks located off of the northwest corner of the continent. Also known as Spitsbergen, which roughly translates into "Land of Pointy Rocks" in Danish, it is an incredible place to ski and  ride.  At just below 80 degrees north, the entire island archipelago is within the Arctic Circle, which means close to 24 hours of daylight, wildlife and surreal scenery.
Ice Axe Expeditions was a pioneer in establishing ski cruises up there and is offering two trips again this year.  The first week, May 14-22, is almost full, but there is still room on-board for the second week, May 22-30.  The trips start with a flight into Longyearbyen, after which we board the 60ish foot sailboat "Arctica II" and head out into the wilds to hunt down good skiing.  Like Antarctica, there is a huge variety of skiing to be had, from long tours to scenic peaks and/or steep couloirs.  There are two mountaineering guides aboard, which means we can mix and match groups for each day's objectives.

Anne Karl heading out skiing in the morning.
This will be my third trip to Svalbard and my 5th & 6th ski cruise outings – it is one of those places on earth that keeps drawing you back.  May is the ideal time to go as the days are getting longer (like, 18 hours long…) and warmer, plus much of the ice has melted out, so we can get ashore easier.  Being that far north, there is always snow, so the annual snowpack depth and current conditions are almost irrelevant.  I've had everything from corn to powder up there and it is always an adventure.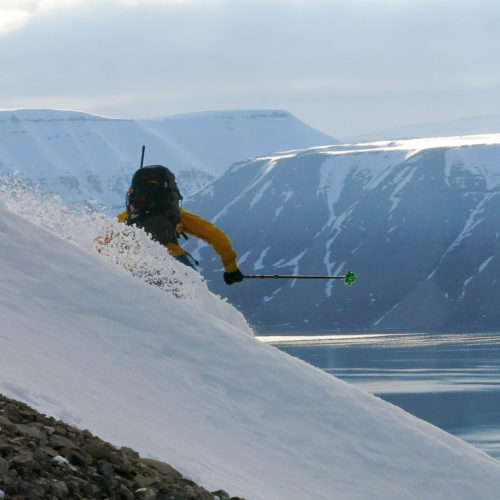 Ice Axe guide Todd Offenbacher.  He'll make you laugh, cry and ski.
Travel Basics
Longyearbyen (LYR) is the final destination and is the furthest north major commercial airport.  Due to flight logistics, a night in Oslo, Norway (OSL) is almost inevitable, which is fun in itself.  From Longyearbyen, Ice Axe Expeditions covers all of the travel logistics (meeting at the airport, transportation into town, getting to/from the boat, etc.) and then once aboard the Arctica II, all meals, accommodations and guiding are included.
As always with Ice Axe trips, Karyn Stanley is the Master of Ceremonies and can answer all logistical and pricing questions.  To learn more about the trip, visit the Axe Ice website or drop me an email at amclean@xmission.com
A gallery of favorite Svalbard photos…
Category: Announcements, Trip Reports