It only takes getting three liters of boiling hot water spilled in your lap once to realize the importance of a good stove board for heavy winter camping.  Boiling water and melting snow are major pastimes of winter camping and the hot little camp stoves need all the help they can get to keep from spilling their contents.

Ming Poon sitting in front of a nice level, flat, secure stove board, which in turn is resting on a rotting column of snow.
For short, lightweight outings, a shovel blade will do for a stove board, but for longer outings, a bigger board is better.  Stove boards are semi-disposable, but it takes just about the same amount of time to make a crappy one as a good one, so I try to buff mine out and get multiple trips out of them.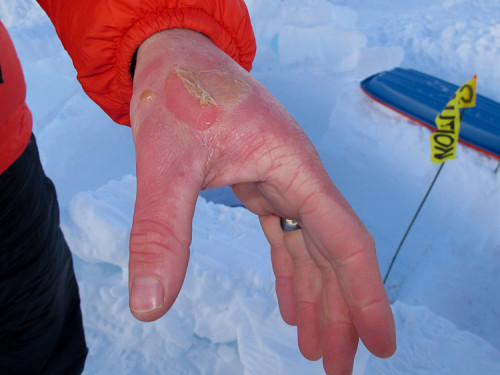 Garrett Grove showing off the painful results of a camping stove accident. This is the type of thing that seems unlikely beforehand, but can shut down a trip.
Considerations:
Size – Generally, the bigger the better, with the limits being what you can fit into your luggage and what size gives you the best yield from a piece of plywood.  I have a variety of stove boards which are sized to fit into the back panel of a back pack such that they give the pack extra support, but most of them are in the 12″ wide range (the width of a roll of aluminum foil) by about 24″ long.
Plywood – Plywood, not masonite or pressboard, is essential as it stays strong even when it's wet.
Rounded Corners – Yes, it requires an extra step and a jigsaw, but it also keeps the corners from getting snagged by pants in a tight cook tent and spilling everything.  Well worth it.
Aluminum Foil Cover – It's kind of like granite counter tops for your cook tent.  Not only does this help prevent the board from catching on fire after some over zealous priming, but it allows you to wipe the surface clean, which can be nice once or twice a week.
Tie-off Hole – I've never actually used it, but everything in life should have a tie-off hole under the assumption that it is better to have one than to need one.  Smaller is better as stove legs can fall into large holes.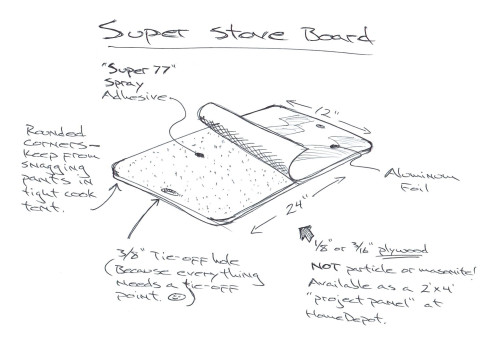 Construction:
It is pretty hard to screw up building a stove board.  Cut it to size, round the corners, give it a light sanding (optional), spray one side with Super 77 Spray Adhesive and stick on some tin foil.  Done.  The total cost will depend on how much of the materials you already own.
________________________________
Help support StraightChuter.com and put a blowtorch on your stove board with an MSR XGK EX Multi-Fuel Stove from Backcountry.com. Click on the photo below.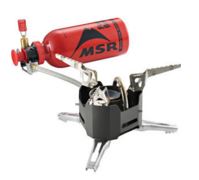 Category: 02 Gear, Gear, Gear Reviews