Having the right mindset is almost as important as the right gear and technique when it comes to steep skinning.  You have to be into it.  I was out touring with a friend from Switzerland in the Wasatch Mountains a few years ago and he refused to follow any of the existing skin tracks, which tend to be steep (from what I've heard from out-of-state visitors – they seem normal to me).  "These skin tracks are stupid!"  We ended up breaking new trails, which is about the worst that can happen if you can't or don't want to push the angle.  So what, eh?
Another little trick is to be calm a subtle with your footwork and try to milk every little irregularity you can.  Put your ski/skin down once, pressure it firmly and stand up on it smoothly.  Stomping rarely helps and more often than not destroys any grip the snow might have.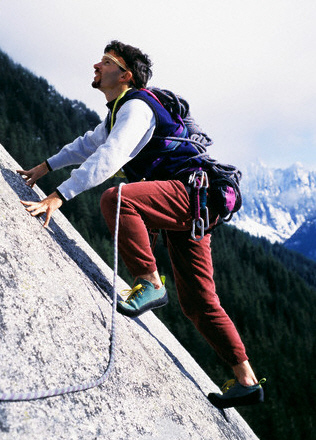 Perhaps one of the reasons I like steep skinning is that I also like friction climbing (moderate angle, smooth slabs, minimal handholds).  I was a little insulted when a friend once said "Oh yeah, friction climbing – whatever.  Once you get the hang of that you can hike routes all day long." which is kind of true.  More than anything it is about developing a feel for the rock or snow, trusting your feet and relaxing.  Once you get comfortable with these elements, you can hike steep skin tracks all day long.
________________________________
Help support StraightChuter.com and get your groove on with Black Diamond Ascension Nylon STS Skins on sale now at Backcountry.com. Click on the photo below…
Category: 05 Uphill