You don't need any special gear to lay down a steep skin track, but there are a few adjustments you can make to your existing set-up which will help.
Heel lifters are absolutely essential and should be turned to their highest setting.  Don't be bashful. Certified guides dislike heel lifters for their clients as they are too tippy, but once you get the feel of them, there is no going back.  It's kind of like walking around on a roof with high-heels – it may not seem like a good idea, but it keeps your foot flat so you can use your thigh muscles instead of your calves.
Shorten your poles down so you can get on top of them instead of hanging off of them.  Pushing on them instead of pulling allows you to use your arms, chest and back instead of just your arms.  It is the difference between doing push-ups and pull-ups.  I can do little cheater push-ups all day long but am cooked after about ten pull-ups. If you have asymmetrical baskets (and you should), rotate them with the short side forward so they don't lever out.
Get some good nylon skins.  Nylons are known for their sticky climbing abilities and that's what we are talkin' about here. Good glue and a tip & tail kit are also important for steep skinning as you put a lot more sheering force on your skins than when you are just scooting along on the flats.
Undo your top boot buckles so you have maximum ankle flex.  I usually keep my forefoot buckle fairly tight (as tight as I'd have it for skiing), the ankle buckle semi tight and totally undo the top buckle.  I don't use the Velcro powerstrap, but if I did, I'd loosen that all the way as well.  Of course, make sure your boots are in tour, not ski, mode. Like friction climbing, steep skinning requires a subtle feel and you want control without restriction from your boots.
________________________________
Help support StraightChuter.com and get on top of a Black Diamond Whippet Self Arrest Pole on sale now at Backcountry.com. Click on the photo below…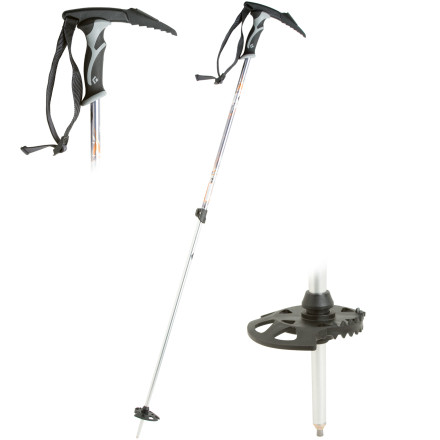 Category: 05 Uphill