One reason there isn't more super steep skiing footage in ski films isn't that it is so hard to shoot, but more that it is kind of boring to watch. Slip, slip… slip.  Pause.  Turn!  Slip, slip, slip. Pause. It is way more fun to do than to watch. 
Steep skiing is like this because when the stakes are high, it is important to make every turn count. The best way of doing this is to get every turn under control before committing to the next one.  Unlike moderate slopes where you can easily recover from getting back or inside, steep slopes have a way of magnifying imbalances.  Starting a turn from the backseat means you'll land even more in the backseat and within one more turn, you'll be checkin' out. 
In good conditions, like half-inch deep corn, it is much easier to stick a turn in a perfectly balanced position and roll it over into the next one with almost no delay.  But, in icy or funky conditions, getting a turn under control may take 20-30 feet of nervous skittering around before you are ready for the next one.
As with most things related to steep skiing, patience is important.  Don't rush the dicey turns, enjoy the exposure, take it one turn at a time, and before you know it, you'll be linking some big fat sweepers on run-out apron.
Edited to add this afermath photo of Bean's whipper:
________________________________
Help support StraightChuter.com and keep it under control with a pair of Scarpa Spirit 4 Alpine Touring Boots on sale now at Backcountry.com. Click on the photo below…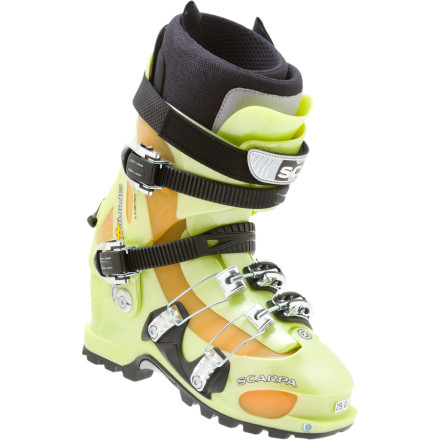 Category: 06 Downhill