Ninety-percent of steep skiing is in your head.  I've witnessed some absolutely crappy skiers make it down steep slopes and conversely, seen experienced skiers (including myself) totally freeze up.  It's one of those things you just have to be psyched for and sometimes you are, and sometimes you aren't.  A bitter divorce or break-up seems to help get people in the mood to ski like they just don't care.
Good partners go a long ways towards successful steep descents.  On one hand, you want someone who is motivated and confidence inspiring, yet not over-bearing or pushy.  The last thing you need when faced with a potentially huge fall is peer pressure from a friend.  Aggressively nailing a steep line may be the ultimate goal, but if you didn't have your Wheaties and don't feel up for it, it is great to have an understanding partner who won't give you shit for sideslipping the entire line.  What goes around comes around and it seems to happen to everyone.
A related aspect of mental warfare is the dreaded pre-psyche-out.  This often happens the night before when slopes grow teeth, sprout patches of glaze ice and steepen by 15 degrees.  By the time the sun comes up you've convinced yourself that you are about to die.  Reality is seldom this bad and a good mantra is "You never know until you go."  If it really is horrible, turn around and ski another day.
________________________________
Help support StraightChuter.com and get some blood-stain resistant Mountain Hardwear Vertical Pants from Backcountry.com. Click on the photo below…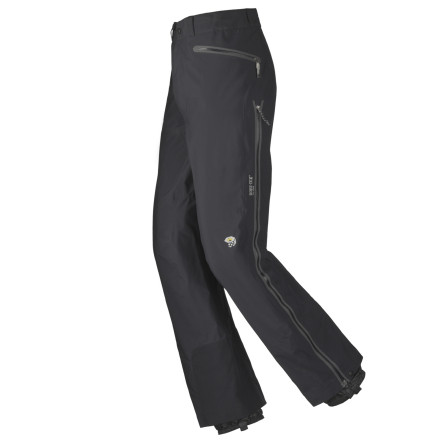 Category: 06 Downhill