The South Ridge of Mt. Superior is an all time classic alpine scramble in the Central Wasatch Mountains.  It can be done in the winter, but due to cornices and steep slopes on each side, I think it is far more fun in the summer, especially as preseason training.  The climb is almost exactly 3,000′ and is often done as a loop by going up the south ridge, then running along the east ridge trail back to Pole Line (Cardiff) Pass, then down to Alta and back to your car on the road.
There is no real route to speak of, and although the climbing guidebook rates it 5.4 or so, you can always avoid harder sections by traversing out onto the south face.  It is a very fun outing on mostly solid rock, but should be treated with a good dose of respect as there have been fatalities on it, including a good friend, Dan Rector.
One of the hardest parts of the entire route is actually finding the start.  After walking up an old spur road directly under the south face, go about to the middle of the clearing and start up a narrow path.  From here, stumble your way up a loose talus field, angling slightly to climbers left and looking for a white face/gully.
Work your way up through this, and keep angling to climbers left.  When you get up a bit, you'll be able to see the GazEx tube.  Head towards it.
From here, you are in power scramble mode and stay on the ridge within about 10-15 feet.
After crossing the top of Suicide Chute, you wander around for a while and eventually end up at a lower angle hiking section which is mostly ebony and ivory colored rocks.  A bit after this at around the 2,000′ level is the crux if you choose to stay right on the ridge.  This can be easily skirted to the climbers right via a chossy gully.
Go dog, go!
________________________________
Help support StraightChuter.com and stick to the South Ridge with Scarpa Quest Approach Shoes from Backcountry.com. Click on the photo below…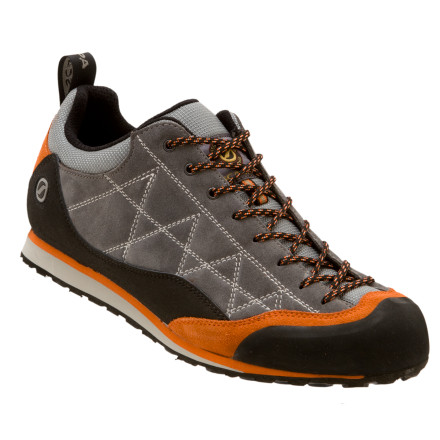 Category: Route Info