I took this workshop last year at Snowbird and am excited to be returning this year as an instructor.  I'll be giving two classroom presentations, teaching a ropes & knots mini clinic and partaking in all of the on-snow activities.  My first presentation should be titled "Mental Case Studies in Avalanche Stupidity" as it covers six avalanches I've been involved in and what I learned from them.  The second presentation is along the lines of "Defusing Steep Skiing Terrain" and covers some of the things I think about when approaching steep lines with serious avalanche consequences.   The on-snow clinic, tentatively titled "Stupid Rope Tricks" is all about how to use a minimal amount of gear – 100′ of rope and two carabiners – to increase your safety odds in steeper, non-technical terrain.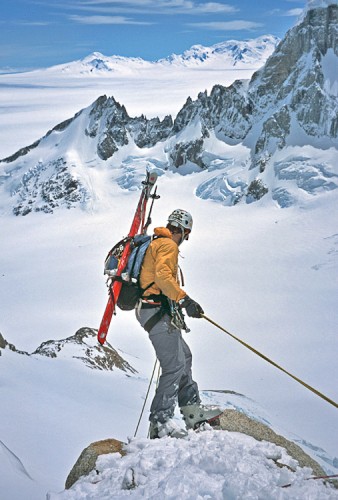 Rapping off of a snow bollard in the middle of the Southern Patagonia Ice Cap.  This will not be on the test.
The course is being put on by the Utah Avalanche Forecast Center and features other topics such as decision making, active terrain management, partner rescue and accessing snow stability.  It is tailored specifically for Big Mountain Freeride skiing/riding and many of the courses will be taught by local skiing and filming luminaries.  The cost is $175 and it is limited to 40 participants.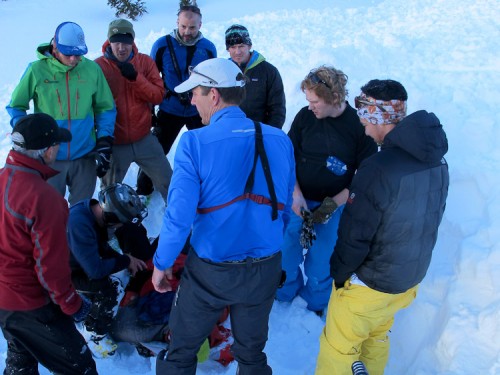 A real life full burial.  Hopefully this will not be on the test either.
Rough Agenda:
Sunday,  Jan 26th – 3:00 – 4:3opm  Overview
Monday, Jan 27th – 7:15am – 6:00pm  Classroom and on-snow
Tuesday, Jan 28th – 7:30am – 5:30pm  Classroom and on-snow
For further details and to register, go to: http://utahavalanchecenter.org/classes/snowbasin-freeride-avalanche-workshop
________________________________
Help support StraightChuter.com and tie one on with a Sterling Fusion Nano AT Dry Rope from Backcountry.com. Click on the photo below…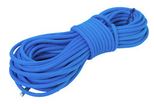 Category: 07 Avalanche Avoidance, Announcements, Events