Uphill kick-turns are one of the essentials of backcountry skiing.  In general, it is better to do a "walk around" turn to change direction, but when the slope gets too steep, kick-turns are the way to go. It's hard to say that there is any one way that is better than the others as much of it has to do with the gear and the balance of the ski.  They used to be called "snap kick turns" as the ski required a little heel tap to get the tip to rise up, but with the right balance, most skis do this on their own nowadays.
The more traffic a kick-turn gets, the greasier and trickier it can become.  Probably one of the most notorious skin tracks in the Wasatch Mountains is the classic Flagstaff ridge, which serves excellent, easy access, moderate terrain, but skinner itself tends to be steep, have lots of switchbacks, gets lots of traffic and is south facing, so it gets extra slippery. I'm sure it has been the end of many backcountry first dates.
As switchbacks get more and more beat out, an important concept is to go a bit deeper into them before initiating the turn.  This is shown at 0:12 on this video, where you want to get the heel of your lower boot at least level, if not slightly above the new line of direction.
And above all else, practice, practice, practice.
This video and others can be found on my new YouTube channel, Just the Tip.
________________________________
Help support StraightChuter.com and nail your next kick-turn with a pair of Black Diamond Helio 95 Skis from Backcountry.com. Click on the photo below.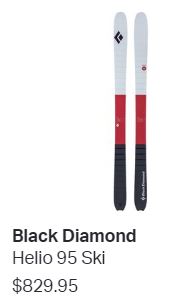 Category: 05 Uphill, Commentary, Just the Tip