I tend to do a lot of skinning over timber.  Why, I'm not sure as it is not really that much fun, but I suppose it is better than traversing way around a fallen tree, then backtracking.  Timber skinning is especially common early in the season or when it is a low snow year, such as we have now (sniff…).
Attacking timber head-on is an exercise in frustration as your skins will grease off of it and your edges won't bite, so you end up turfing face first into some wet wood.  Not so fun.  It only took me about ten years to figure this out, but patience and setting up for a log crossing is almost always faster than a direct assault.
Step 1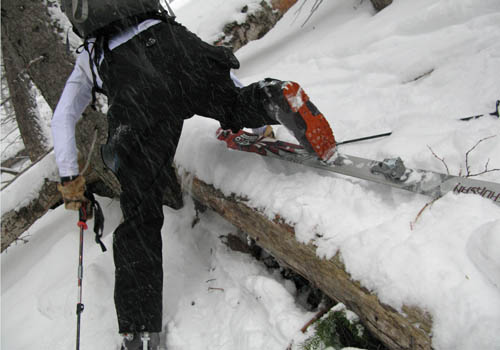 Approach the log and introduce yourself, explaining the you are going to cross it whether it likes it or not, and the log can either make it easy on itself, or get debarked.  Your choice buddy.  Turn parallel to the log and scrunch up as close as possible, then lift your uphill ski over it, using your hand to help position the ski if need be.
Step 2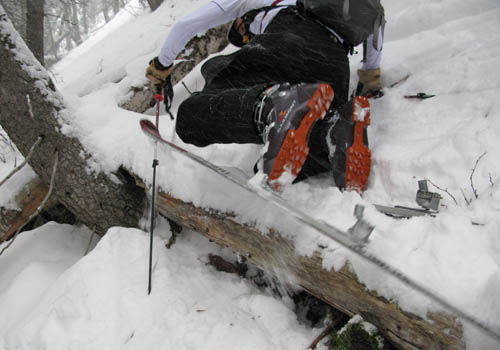 When establishing your uphill ski, MAKE SURE AND LEAVE PLENTY OF ROOM FOR YOUR DOWNHILL SKI BELOW IT.  This is the crux, as if you crowd it too much, you will be stepping up onto the log instead of snow and will inevitably grease-off again and curse a blue streak.
Step 3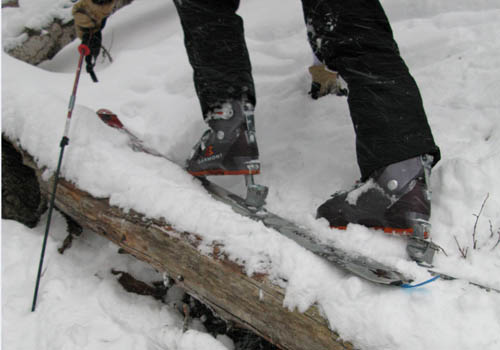 Stand up, regain your composure, and continue on.  Repeat as often as necessary.
________________________________
Help support StraightChuter.com and show timber who's the boss with a G3 Bone Saw from Backcountry.com. Click on the photo below…
Category: 05 Uphill