Now that the edges have been trimmed back and the nose has been set, I like to tweak my tails a bit (the tails of the skins that is).
Although I designed the BD ClipFix and used that system for years, I've now gravitated towards the STS system (shown below).  I liked the ClipFix, but as Martin Volken said about it, "It's an expert system." meaning if you spent the time to get it perfectly dialed, it worked great, but if not, they'd fall off. I didn't mind getting mine dialed in, but that often meant widening the tail slot, which is/was kind of a pain.  The STS system is not only totally bomber, but it fits most of the standard issue tail notches.  If you don't have a notch, most skis can stand one being filed/cut in and it makes a huge difference in keeping your skins on.
I use a pair of Channel Lock pliers to crimp the camming cleat down to a lower profile (less chance of it getting hung up on things) and then thread the tail back through the tip, as shown above.  Tucking the tail up makes for cleaner, faster uphill kick-turns where you are less likely to step on your tail dingle.  Plus I hate having those things flapping around.
As a final skin set-up step, I keep the skins attached to the appropriate ski with a Voile strap so I never grab the wrong skins, or worse yet, forget them, when heading out the door for a big powder day.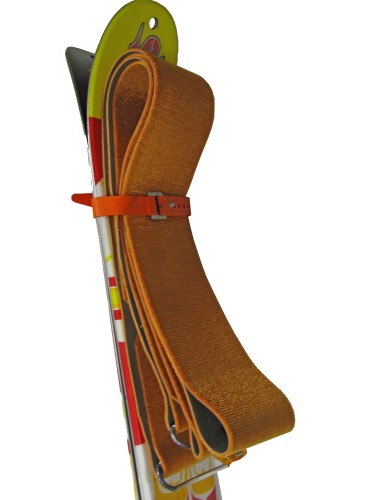 ________________________________
Help support StraightChuter.com and pick up a pair of the light & compact Black Diamond GlideLite Nylon STS Skins from Backcountry.com. Click on the photo below…
Category: 05 Uphill