Last Thursday I had a chance to head up to Big Cottonwood Canyon and tour through the proposed Talisker SkiLink route. The actual details of this Wasatch abomination have been kept quite, or at least from public view, but by locating the beginning and end points, I was able to generate GPS waypoints of where the towers would have to go and what would be private property. The results are detailed in this five minute video which may contain shocking images, especially if you are use to skiing in the Willow Fork area.
Mike Goar, the Canyons CEO, and Ted Wilson, Talisker's tram lobbyist, have repeatedly said that the backcountry would not be impacted with this tram, which makes me wonder if they are a) completely ignorant about the backcountry, or b) lying. The actual wording of HR 3452 makes no mention of prohibiting roads, off loading ramps, cutting ski runs, plugging in trophy homes or adding alpine coasters for summer recreation – it only says that public land should be sold to a private developer.  Since the developer is in business to cut roads, build trophy houses, install lifts and add summer amusement park rides, it seems naive to think they will do otherwise with this area.  Why would they?  It's Utah and this would be private property.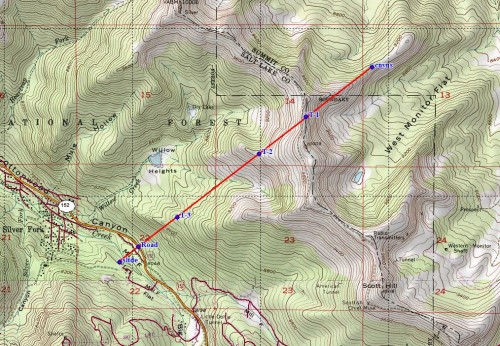 Right-click here for SkiLink waypoint file (right click, save file as, import into your gps).
After this tour, the thing that struck me the most is just how much of an area 30 acres is.  In this case it would be a strip roughly 1.5 miles long by 165′ wide that would bifurcate a large chunk of Forest Service land in a divide and conquer manner. I can only imagine that the remaining upcanyon chunk of land will be sold off at some later time under the guise of ending world hunger, educating the children or curing cancer.
________________________________
Help support StraightChuter.com and locate some imaginary tram towers with a Garmin eTrex Vista H from Backcountry.com. Click on the photo below…

Category: Commentary