As much as I enjoyed being in Alaska (details and photos forthcoming) for the past three weeks, I couldn't help but have a Wasatch flashback while we were flying over the spine of the mighty Chugach Mountains. Cruising at  something like 125mph, it took us about an hour to cross the range and we saw exactly one set of man-made tracks. By contrast, an east/west flight over the Wasatch range would take about a minute at that speed and not only would you see hundreds of man-made tracks, but you'd fly over the Salt Lake Valley, which in itself has a population three times as large as the entire state of Alaska. Both mountain ranges are fantastic in their own regards, but 30 acres in the Chugach is nothing, whereas losing yet another 30 acres in the Wasatch is huge.
In an effort to bolster support for their intended SkiLink land-grab, Mike Goar from the Canyons/Talisker put together a group called the Lift Utah Coalition, which held a press conference yesterday in Salt Lake City. The closed-door conference was accompanied by an equally large, or larger number of protesters, of which I was one. It is a sign of the times when skiers, hikers, snowshoers, hunters  and outdoor enthusiasts are boycotting new recreation infrastructure, while locked inside a closed room, bankers, real estate developers, ski resort managers, resort attorneys and home builders are promoting it.  While it is becoming clear that SkiLink is all about ski resort expansion, at least they have dropped the flimsy pretense that it has anything to do with transportation, which was about as transparent as a Fredrick's of Hollywood nightgown on Gayle Ruzicka.  I think the only vestige of the transportation concept is to try to get state funding to help pay for it, or at least garner some massive transportation tax break.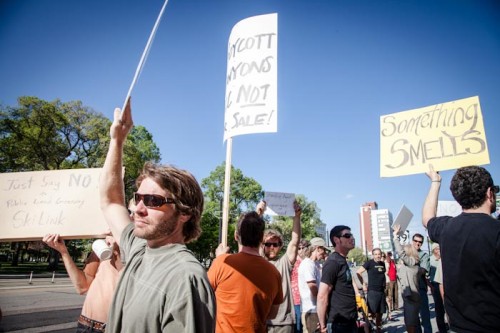 Talisker has been throwing an impressive amount of money at this project, including roughly $500,000 on lobbyists, including Ted Wilson who is pretending to be an environmental consultant. I recently even got a request from a local marketing firm by a guy posing as a concerned citizen who said he wanted to write a guest post on straightchuter.com, which turned out to be a glorified press release promoting SkiStink.  You need to follow this blog a little closer there Porter Olson – nice try though you little scammer.  :)  Try skiutah.com – they'll publish it and you can get your commission.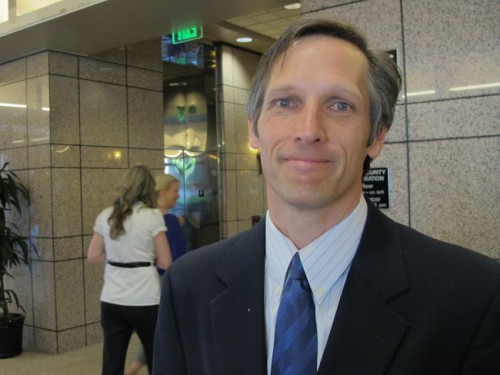 The silver lining on this dark little cloud of a press conference was that I actually got to see a real, live person from Talisker, namely Steve Postorino, Talisker's Director of Public Relations and Press Conference Door Bouncer.  Considering they operates in a small ski town, most of my impressions of Talisker involved large logo'd SUV's with tinted glass windows, private clubs and gated communities. They are a secretive organization and prefer to do most of their business behind the scenes in congressional offices, lobbyists suites or through attorneys.  Steve, pictured above, has no opinion on giving away public land – just ask him.
One of the more disturbing aspects of the local media coverage of SkiLink is the continual parroting of Talisker press releases as if they were facts, instead of pure sci-fi. Five hundred new jobs, $52 million a year in revenue and construction ethics endorsed by Northern Goshawks all over Utah?  None of them seem to notice that the crux of this entire project involves a foreign private equity group skirting local government and public input (and objections) by submitting a congressional bill to try to usurp public land for their private use. The painful irony of the situation is that Utah politicians claim to hate the Feds and love local control, yet the first thing they do is bypass the local agencies when "they don't give us the answer we are looking for."  It is also painful to see the newspapers describing the bill as "allowing the Forest Service to sell the land" when in fact it would force the Forest Service to sell the land, much like forcing grain down a goose's throat to make foie gras before killing it to eat its liver.
The entire legal process is a bit of a mystery to me, but according to Carl Fisher of Save Our Canyons, the bill, H.R. 3452, is adrift while it awaits a Senate hearing, which may be a while as they have other more pressing issues.  I hope for the sake of the Wasatch Mountains that this bill is shot down as hard and as fast as possible, mainly because it would create such a horrendous precedent.  I'm not sure why a car dealership like Ken Garff Automotive would support ski resort expansion, aside from the fact that it Talisker gets their 30 acres, why not give Ken Garff 20 acres for a new car lot at Alta, or Ivory Homes a 40 acre chunk for some condos in Big Cottonwood , etc.?
For the record, I'm not opposed the idea of linking all the resorts together, but I think it has to be done in the least  obtrusive way possible to begin with to see if tourists even care, which I suspect they won't. I've done the SkiUtah Interconnect once, which is was enough to understand why it is affectionately known as "The SkiUtah Disconnect."  After finding out it takes all day to ride lifts to and from Alta and the Canyons, the thrill will be gone but the chairlift bedsores will remain.
A few parting words of hypocrisy from the Talisker website:
…belong to a club that's more like a family, one that gives you access to Talisker's 10,000 acres of private wilderness and experiences few people ever even dream of.  A place where design excellence is revered and nature is honored.

As a member, gain unrivaled access to world-class skiing, golf and every imaginable outdoor activity in the pristine wilderness of Park City, Utah.
Apparently wilderness is valued as long as it is privately held, nature is honored by constructing exclusive gated communities, and the area around Park City is pristine wilderness, except when it comes to public land, in which case it is just a wasted slag heap waiting to be saved from itself.
Category: Commentary