Like rust, SkiLink never sleeps – it just gets covered up with a new coat of spray paint or a greasy press release.  Nothing new has happened on the congressional bill side of things, and for that matter, nothing is expected to happen on that front until after the November elections.  More on that in a minute, but there are three immediate items you can partake in if you'd like to help fight the blight;
1) The Stop SkiLink Fundraiser
This is an evening event featuring a silent auction and presentation by Howie Garber.  I'll be giving a few opening remarks and representatives from Save Our Canyons and Winter Wildlands Alliance will be on hand to detail how funds will be spent to help fight SkiStink. There will also be appetizers, desserts, a cash bar and live music.  The cost is $100 per person with checks or cash being made out to either Save Our Canyons or WWA.  If you'd like to help support SOC or WWA, this is a great opportunity to do so.  The event takes place on November 2nd from 7:00pm – 11:00pm at Caternina (formerly Cucina Nassi) at 2155 South Highland Drive.  Advanced registration appreciated and available here.
2) Join the Business Coalition in Opposition to SkiLink
Joining this group involves adding your company's name to the growing list (over 70 to date) of businesses who are opposed to SkiLink.  This list currently includes Patagonia, Black Diamond, Wasatch Touring, Mayor Ralph Becker, Mayor Peter Corroon, Friends of Alta, The Porcupine Restaurant, construction and landscaping businesses, medical businesses, and many, many more.   To become part of this, simply email Carl Fisher or John Johnson with the name of your company and  indicate your willingness to stand in opposition to backroom landgrabs such as SkiLink.
3) Sign the online Stop SkiLink petition
This is completely painless – log on to http://www.change.org/petitions/help-stop-skilink-oppose-h-r-3452-and-s-1883 and make your digital voice heard. Unclick the "display name" and "send me updates" boxes if you want to make a clean exit.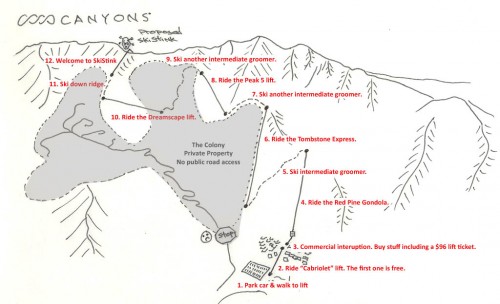 On the political front, like many things in America, SkiStink's destiny could depend on the outcome of the elections.  The bill was voted affirmatively out of the House Natural Resources Committee on a party-line 20-18 vote in February 2012. It now is waiting to be introduced to the full House (and be heard in a Senate committee.)
If it passes those, it is up to the POTUS to approve or veto it. In that regard, after Earl Holding weaseled over 1,250 acres of land* from the public in the name of the 2002 Olympics, Salt Lake Olympic Committee chairman Mitt Romney said "It's nice that Mr. Holding will be able to have a more complete resort to showcase."
* of which 10 acres were actually used for the Olympics and the rest went into private development
Category: Commentary