I wouldn't want to do it all the time, but I love skiing with dogs because they have such a good time.  With many of the canyons around Salt Lake City being closed to poochies because of watershed issues, it is getting tougher to find a place to take you dogs for a powder run around here.  Luckily, our house is just over the SLC/Summit County line and has a nice sheltered, north-facing, safe,  treed run in the backyard.  It use to be just a local's hangout, but over the years it has become known as one of the closest places you can go skiing or snowshoeing with a dog, so it has become Canine Central with people traveling 45 minutes just to ski 700′ shots.
Like people, dogs seem to prefer knee to thigh deep light powder or corn snow.  Crust is too tough on their shins and if it gets too deep they start wallowing.  Thigh deep on a dog is about 12″ and they appreciate a nice solid base to push off of.   The perfect pitch for them is something steep enough that they can surf through it but not so steep it is scary.   I have a special dog circuit with a few roll overs on it that dispel any question about whether dogs can smile or not – when they hit it just right, their eyes light up and they have a jowl-to-jowl canine grin that can't be denied.
Dogs will usually stay in the skin/ski track if they aren't familiar with the area, but once they've done it a few times it's fun to see them develop their own lines.  Usually this means the path of least resistance back to the car, but sometimes they just go off and do their own thing while keeping an eye on you in the woods.  I've seen all sorts of dogs in the backcountry ranging from Jack Russel Terriers to St. Bernards.  They all seem to enjoy it, although short haired dogs need to keep moving or they get cold.  Avalanche dogs tend to be either German Sheppards or Golden Retrievers and I've been partial to Bernese Mountain Dogs as they thrive in the snow.  We lost our loyal ski buddy, Greta, today after 11 years and I hope she is up in doggy heaven sleeping in a deep pile of snow and surfing steep pillows.
________________________________
Help support StraightChuter.com and send your dog into outer space with a Ruffwear Hover Craft Dog Toy from Backcountry.com. Click on the photo below…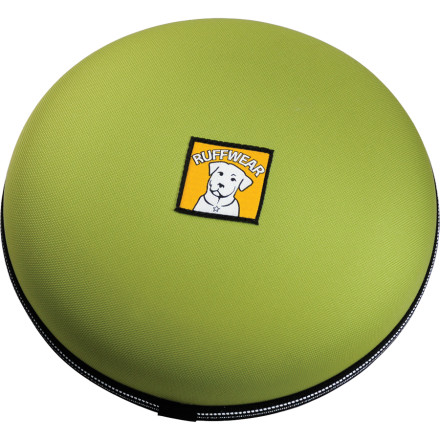 Category: Commentary