Along with cornice stomping, I also do a lot of ski cuts before skiing a slope. Ski cuts are quite a bit dicier than cornice stomping as you have to actually get down on the slope and try to trigger a slide. Because of this, I am usually fairly confident that a slope won't slide before I give it a ski cut, but do so anyways as a matter of habit. You never know.
If there is no "island of safety" to ski to, it might be better to find another slope rather than ski cut your way into the middle of an exposed slope and stop. Another critical element of ski cuts is to do them as aggressively as possible, like, really down-weight on the slope as you move over it. This is akin to bounce testing aid-climbing gear where the idea is to load it up as hard as possible so that if it is going to blow, you want it to go when you are expecting it, not as a surprise later on.
In the photo below, the "X" marks show where I'd really bounce on the slope.  Notice on this slope I'd lose quite a bit of vertical with this ski cut (probably 100′ vertical feet), but it is important to both keep your speed up AND bounce as hard as possible, which means you are going to blow some vert in the process. The ridge at the end of the red line would form a so-so island of safe – not bad, but not great either.  I'd prefer a cliff or rock to hide under.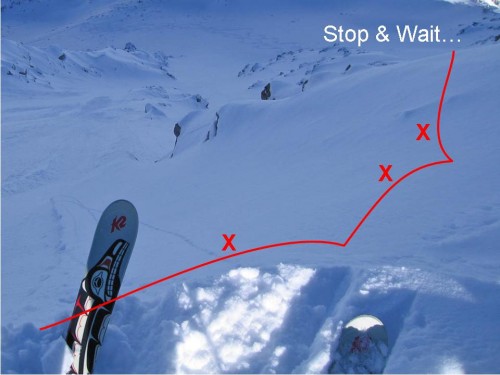 Stopping and waiting for a few seconds after a ski cut is a good idea as sometimes slopes are slow to wake up and react.  On a couple of occasions, I've cut a slope and when nothing happened, I rolled my first turn into the end of the cut, only to find that I've turned directly into a late blooming fracture.  When this happens, you are heading the wrong direction and have lost your island of safety.  Not so good.
________________________________
Help support StraightChuter.com and float like a butterfly then cut like a bee with K2 WayBack Skis from Backcountry.com. Click on the photo below…
Category: 07 Avalanche Avoidance