Whether you like it or not, skis count as a piece of luggage when flying, so I always try to maximize my ski bags utility by both stuffing it full of 49.995 pounds worth of gear, and also using my gear to pad my skis.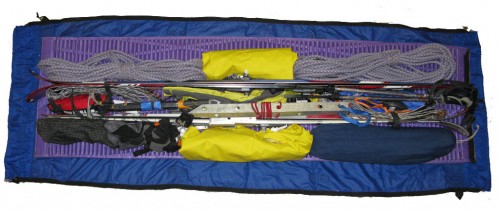 My basic strategy is to start with a home-made guide's tarp which has zippers down the full length and draw-cords on the end.  From there, I place a foam sleeping pad on top of it, then start carefully stacking in gear.  I try to pad around the bindings as much as possible, as well as the tips.  Starting with all the long, skinny stuff, I lay it out, then chink around it with smaller items.  In the picture above, I have two pairs of skis, a pair of poles, an axe, 60m of rope, foul weather gear, a picket, skins, mittens, first aid kit and a few other small items.
Once this is all laid out, I zip it up.

This forms a nice, tight gear burrito.
After this, I slide the burrito inside of a sleeping bag and then add fluffy clothes to bring it up to just below the 50 pound weight limit.  The sleeping bag then goes into an elongated duffle bag made out of burly canvas.
It is a pain to pack and unpack, but I've never lost anything with it or had any skis broken.  The ticket agents often give me the stink eye about there being "more in there than skis" but, there are skis in there, and thus it is a ski bag.  On Delta, there is no limit (or perhaps 80″) on skis, so you shouldn't get charged for an oversized bag.  Arrive early with printed out regulations and be prepared to wait.
I'm off to Antarctica, so I won't be able to moderate or approve any comment for the next three weeks.  Bob Lee – behave yourself.  No spam my knee-dropping friend, okay?
________________________________
Help support StraightChuter.com and pack your pick and Black Diamond Venom Hammer from Backcountry.com. Click on the photo below…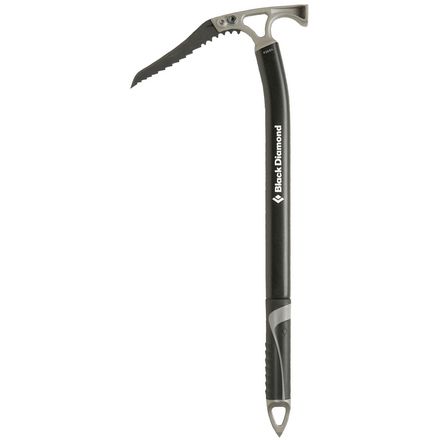 Category: 14 Travel